Let's be honest, #wfh has its benefits. You get to squeeze in those extra 40 winks, spend the day in your comfies and avoid stuffy public transport that turns even the sweetest of people into a passive aggressive ball of stress. But a couple of days into self isolation, the magic seems to wear off somehow. All of a sudden, you look forward to the days when you looked presentable, picked up your morning coffee from your favourite barista, strolled into work imagining the soundtrack of a classic early noughties rom com booming in the background and made polite small talk about how crap the weather is by the tea & coffee station.
Change of routine takes some getting use to. These are our key nuggets of advice:

1. Routine is your friend
Listen to your body, recoup the time you would have spent commuting with more time in bed, but don't sleep in just because you can. Wake up at a reasonable hour and clear your mind before you start work. Make a delicious breakfast or get your body moving
2.Prioritise
This becomes more valuable than ever when you work from home. The temptation to spring clean or rearrange your living room to achieve feng shui could be getting in the way of your productivity. Figure out the times of day you work best and allocate your tasks accordingly
3. (Last but certainly not least) Make an effort to eat nourishing food that you feel excited about!
It's so important to keep your energy and spirits high at the moment, even more so stay fit and healthy. Break up the day with a lunchtime fix that allows your kitchen creativity to ooze and your tastebuds to dance. Eggs on toast are a great quick fix but we're here to show you how to achieve a working from home lunch that's affordable, quick and utterly delicious.
5 #wfh lunches from cuisines around the world: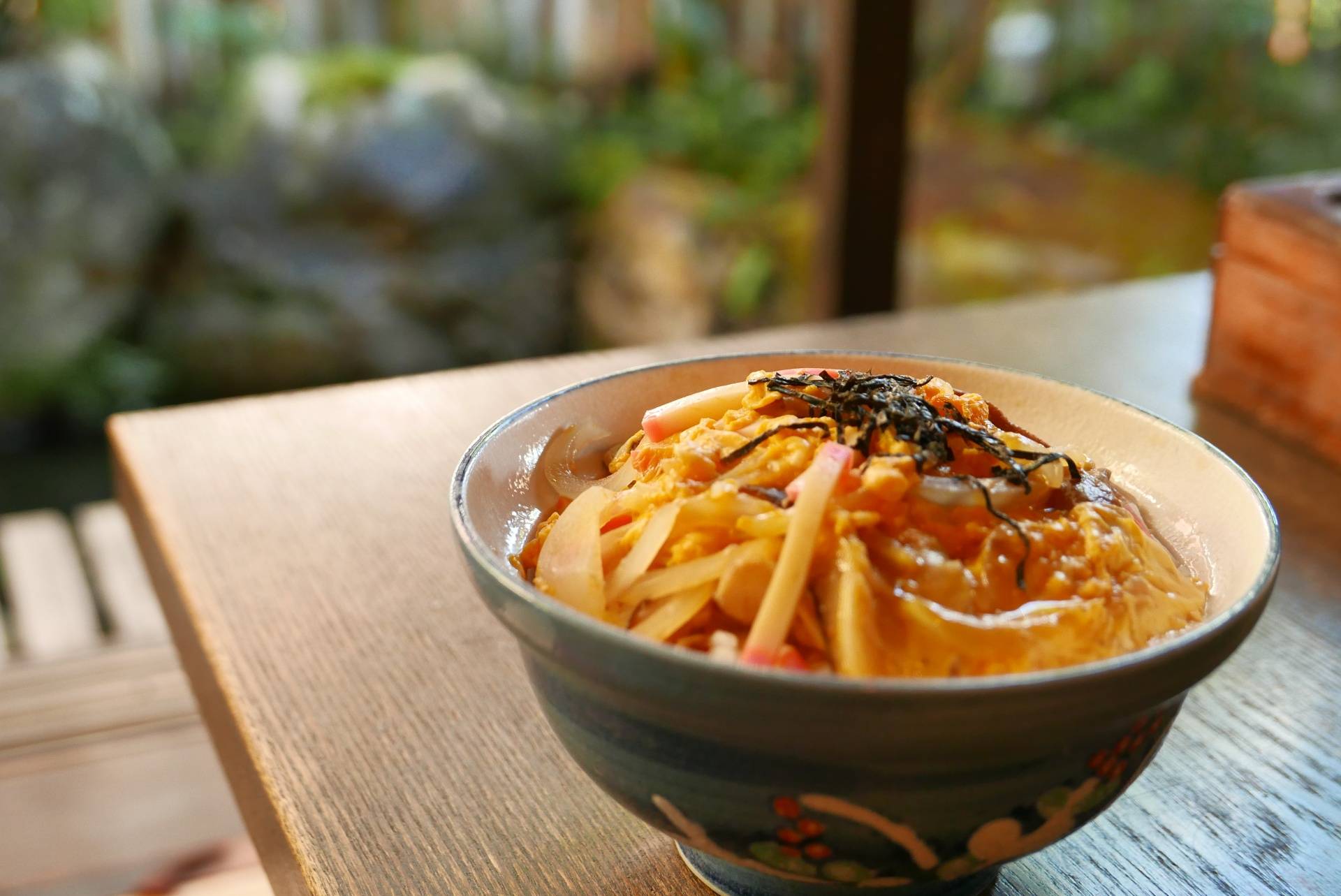 A simple one-dish meal topped with all your favourite Japanese foods. Named for the type of dish that it's served in 'don', donburi is a convenient and delicious japanese lunch staple that rose to fame in the 1600 edo period. Donburi's timeless combination of steamed sushi rice layered with meat, fish and vegetables, is typically served with a side of japanese pickles and a comforting bowl of miso soup.
One of our favourite types of donburi, which also happens to be a hit with the kids, is Oyakodon.

Here's a quick working from home friendly recipe for you:
You have to admire the Japanese slightly twisted sense of humour here. Oyako-don literally means parent and child, hence the 2 key elements of the dish: diced steamed chicken (parent) and egg (child). Twisted or not, this is a mighty fine wfh lunch option. The Chicken and eggs are cooked together with finely sliced onions in a sweet-savoury broth made from soy sauce, mirin and dashi.
Give this one a go and let us know how you get on!
1.Dice 200g chicken into bite-sized pieces
2. Cook the sushi rice (use cooking instructions on the pack)
3. Add 150ml of dashi stock to a saucepan. Once hot, add 1tbsp soy sauce, 1tbsp mirin and a pinch of sugar. Bring to the boil, then simmer on a medium heat
4. Once you've simmered the sauce for roughly 5 minutes, carefully add the chicken and leave to simmer for roughly 10 minutes, or until cooked through and no longer pink.
5. When the chicken is done add 1 finely sliced white onion to the pan
6. Whisk 2 eggs in a bowl before adding to the chicken and onion. Turn the heat to low to stop the egg cooking too much. A slightly runny oyakodon is the best kind of oyakodon
7. Place your rice in a bowl and top with the sweet eggy chicken
A scandinavian open-top sandwich made with a dark savoury rye bread. The Scandinavians do what they do best and elevate simplicity with class and style. This lunch is minimal effort with maximum results using accessible and honest ingredients. The process is simple:
1. Smear a generous layer of butter over your rye bread - no thicker than a pack of playing cards. Factory workers in the mid 19th century who started bringing pack lunches to work, discovered that the butter prevented juices from seeping into the rye and ruining it's lovely dense texture - so layer it on thick!
2. Pile the sarnie high with pickled herring, cold meats, smoked fish or leftovers from last night's dinner. This is also a great one to use up store cupboard ingredients like capers, chutney, mayos etc.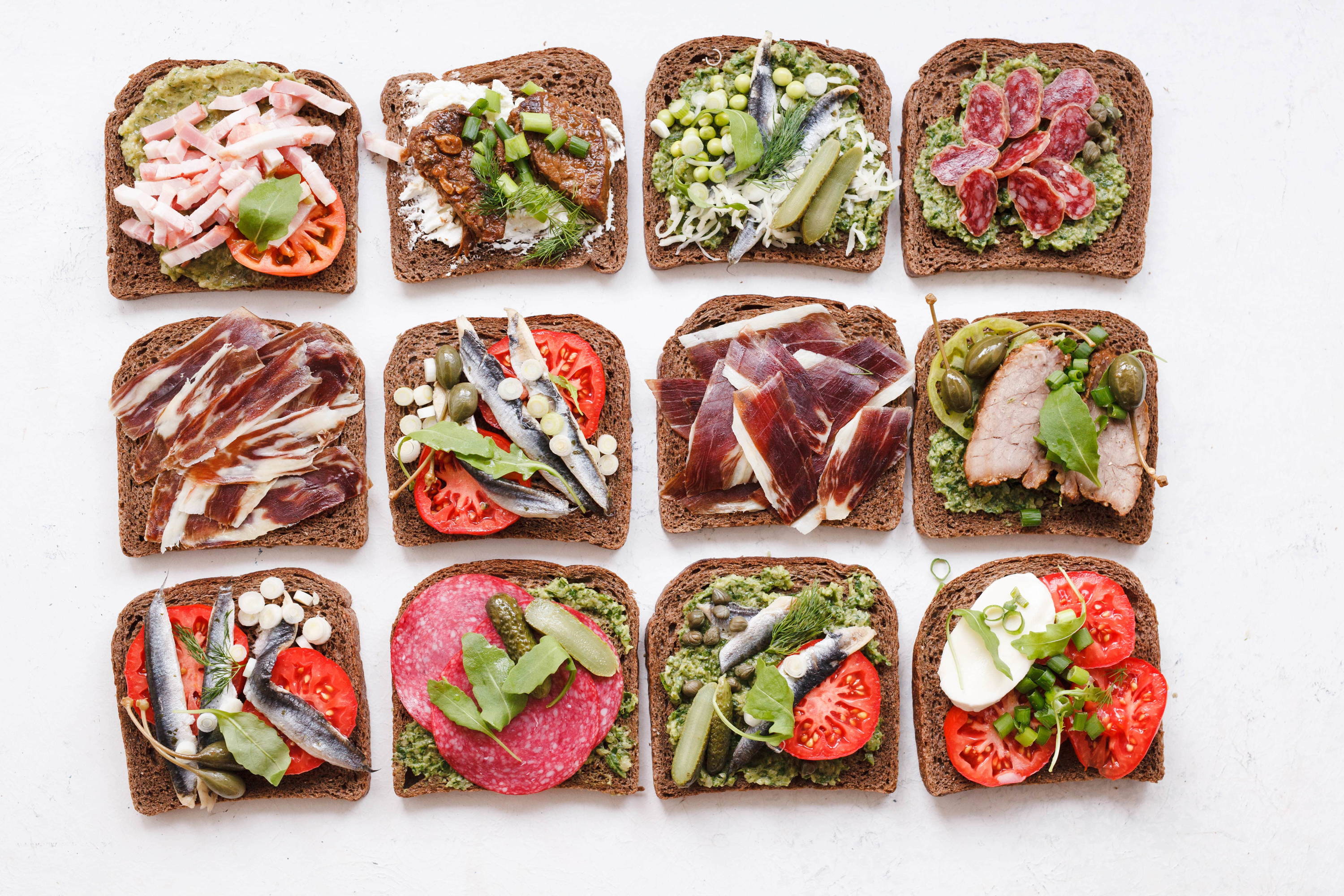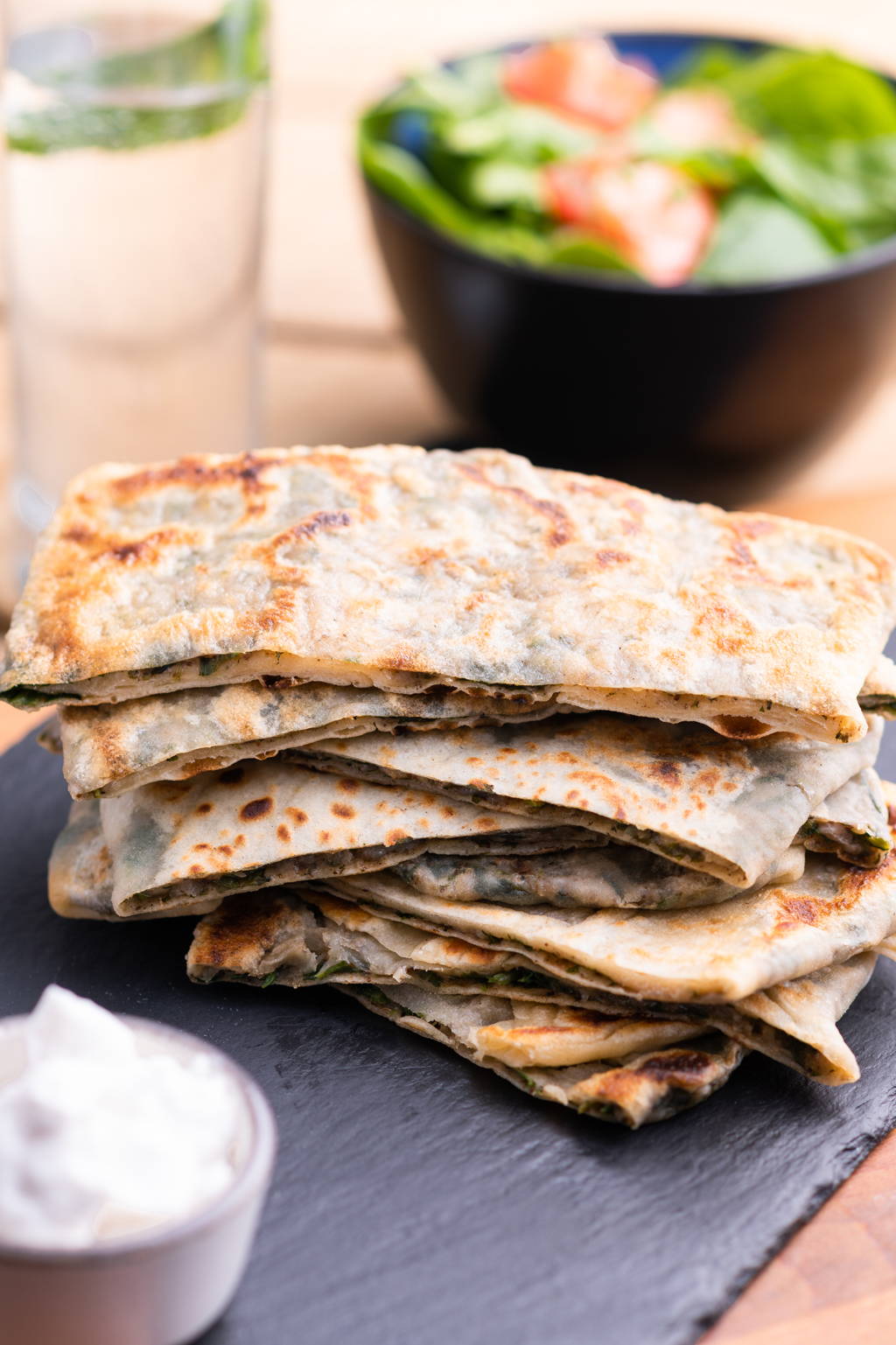 Gözleme are often mistaken for stuffed pancakes by tourists, but that's just a testament to the baking skills of the women who make them— they're actually a flatbread, with the dough rolled to perfect thinness using an 'oklava', a long thin rolling pin around which the dough is repeatedly wrapped and unspooled. Still, though difficult to master, the dough can be made by even a novice baker, then fried until it develops those characteristic'göz', or 'eyes'— the dark, extra-crispy spots of surface charring. Originally a humble Anatolian 'village food', the gözleme is now a beloved treat all over Turkey.
Watch out for our Turkish gozleme recipe coming up on the Feast Box menu!
A delicious vietnamese lunchtime sarnie born of the french influence in Vietnam between 1887 - 1954. This vietnamese take on a bread-based quick fix is particularly delightful. It brings to the party fresh, crisp and complex layered flavours from pickled veggies like cucumber, carrot and daikon, with coriander and lemongrass. The meat element of this dish is typically pork, sandwiched between the pickles and the bread. Marinate your pork the night before in lemongrass and ginger.

You can't go wrong with homemade pickles, and they're satisfyingly easy to make. Test out this recipe below:
Easy peasy carrot and cucumber pickling:
1. Remove the core of the cucumber and discard, then julienne. Julienne 5 medium sized carrots.
2. Place the carrots and cucumber in a large bowl
3. Sprinkle over 4 tsp of sugar and 2 tsp of salt and massage with your hands until well coated and the carrots begin to soften
4. Transfer the veggies to a colander and rinse with water
5. To make the vinegar mix, add to a bowl 1 cup of white sugar, 1 cup of white vinegar and 2 cups of warm water. Mix until the sugar disolves
6. Place the carrots and cucumber in jars or a bowl and pour over the vinegar. Cover and refrigerate. The longer they refrigerate before you tuck in, the better the flavour!

Kimchi grilled toastie. If there's anything you do this week, for the love of god, please try a kimchi and cheese toastie. This is happiness on a plate and ready in under 10 minutes! Traditionalists may turn their noses up but quite frankly, the joke is on them.
All you need is two slabs of buttered toast, a generous portion of cheddar cheese and a heap of delicious kimchi. Layer it all together and place it in the toastie maker or under the grill. Ouila, solid lunch goals.