Well, the sun was nice while it lasted wasn't it? Whilst the beautiful weather takes a hopefully very brief hiatus, it's the perfect time to free up some space in your home as well as your mind, with a spot of spring cleaning. The even better news is that you can donate your unwanted objects and send them away for free to a local charity. Tripple whammy: you can recycle your empty Feast Box in the process!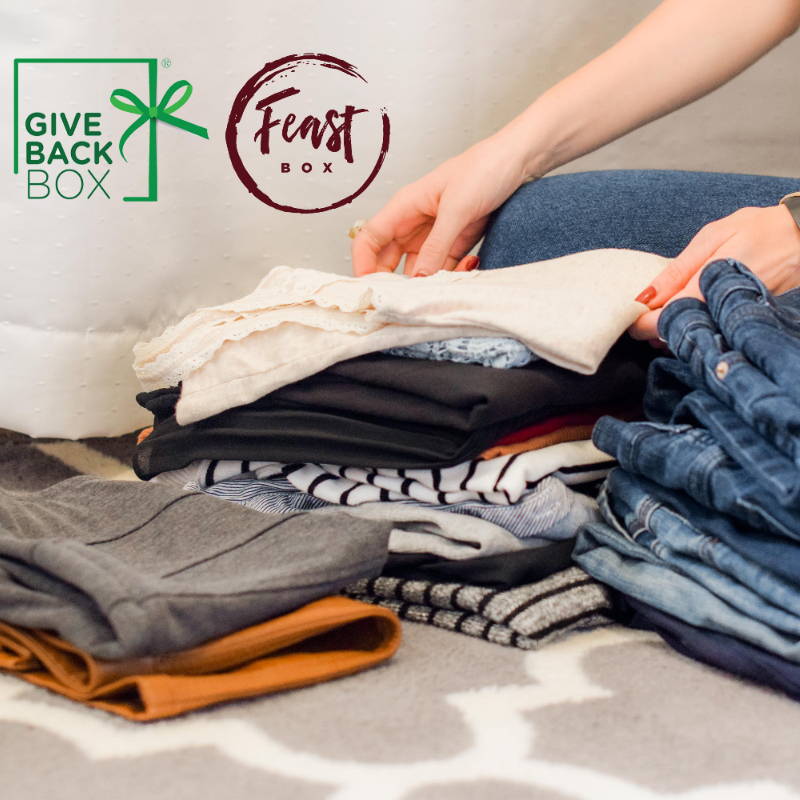 Through our partnership with Give Back Box, we're proud to announce that you'll be able to recycle the cardboard boxes we send you, while also donating to those in need. It helps that the process is so simple. All you need to do is fill your Feast Box with unwanted clothing, shoes, accessories, toys, books - anything that you think will bring joy to someone's life! Simply print off a label using the link above, drop the box at your nearest CollectPlus and send it (free of charge) to your charity of choice.
Obviously, with everything going on at the moment it's completely understandable that you might not feel comfortable heading to the nearest drop off point to send away your box. But what better time than now to organise and declutter your things, ready to send off when things somewhat return to normality? For safety reasons, please be considerate and give your belongings a wipe down with anti-bac and give your clothes a wash.
6 Useful Questions To Ask Yourself When Decluttering:
Does this item add value to your life?
Does this item remind you of something/someone you'd rather not think about?
Have you worn this item in the past year? Does it still serve its original purpose?
Would someone else appreciate this item more?
If you were shopping right now, would you buy this?

Is the only reason you're holding onto this item because you're scared your cousin Amanda will ask you to bring it out next christmas? (maybe that's a bit personal but you get the gist: are you holding onto it out of guilt?)
Smart Clothes: blouses, shirts, suits, skirts, shoes and bags
Who could I donate to?
Smart Works: an amazing charity donating smart, clean clothing to unemployed women in need. The charity believes the power of clean, smart clothes as well as training helps these women grow in confidence and self belief, allowing them to make a fresh start from
themselves.
*Please do not pack your boxes with any kind of food or drinks*
Remember to give responsibly! Think: Will this be useful to someone else? Are the clothes clean? Are the toys or books in working order?
To reward our customers for sending their boxes through the Give Back Box scheme, we're giving 10% off your next Feast Box!