Bring the Festive Feasts to Your Home this Lunar New Year
You might be thinking that all the New Year's celebrations are over but The Lunar New Year is almost here! Lunar New Year is an annual festival celebrated across Asia from China, Vietnam, and Korea, to Malaysia and many others. London, San Francisco and Sydney all claim to have the biggest Lunar New Year celebrations outside of Asia. Beginning this year on February 1st and Lasting 15 days, the festival is packed with culture, well-wishes, and plenty of good food.
The date changes every year as it is based on the lunar calendar (determined by the moon's orbit around the Earth). The festival ranges between January 21st to February 20th and always falls on the second new moon after the winter solstice. Each lunar year also has a corresponding animal from the Chinese Zodiac; 2022 is the Year of the Tiger.
The two main objectives of the festival are to celebrate a year of hard work and wish for a lucky and prosperous year ahead. Streets around the world come alive with beautifully designed lanterns, extravagant parades of lion and dragon dances and impressive firework displays. Above all, the excited chatter and laughter of friends and families reuniting and sharing red envelopes of money and feasting on tasty dishes, makes this vibrant festival an unforgettable experience.
We've gathered some of our favourite, authentic dishes enjoyed over Lunar New Year - from Sichuan Dan Dan Noodles, Prawn Jiaozi and Mapo Tofu - so you can bring the festive feasts to your home.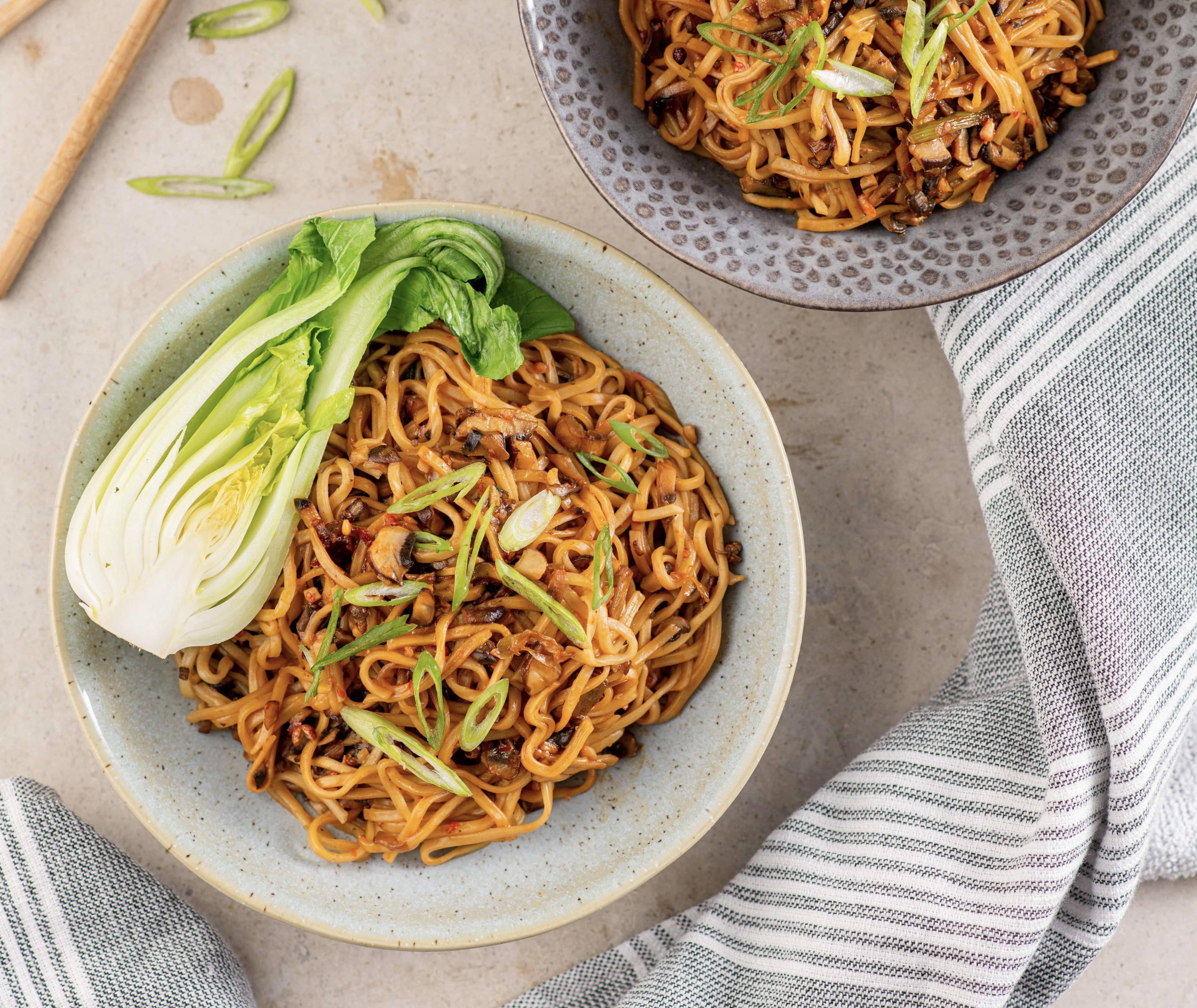 Want a long life? Eat more long noodles - at least, that's the thinking during Lunar New Year. Noodles play an important role during Lunar New Year and can always be found on the banquet table. For the New Year, they're made as long as possible in order to symbolise and ensure a life of longevity. Liberally laced with smoky chilli oil, chilli garlic sauce and mouth numbing peppercorns for which the Sichuan province is famous for, these long, bouncy, Dan Dan Noodles are the ideal supplement to your Lunar New Year Feast. Chopped mushrooms replace the ground meat and bring earthiness to the spicy, nutty and tangy noodle dish. Polish off your festive feasts with a couple of tangerines and the Year of the Tiger is sure to be full of good luck and prosperity.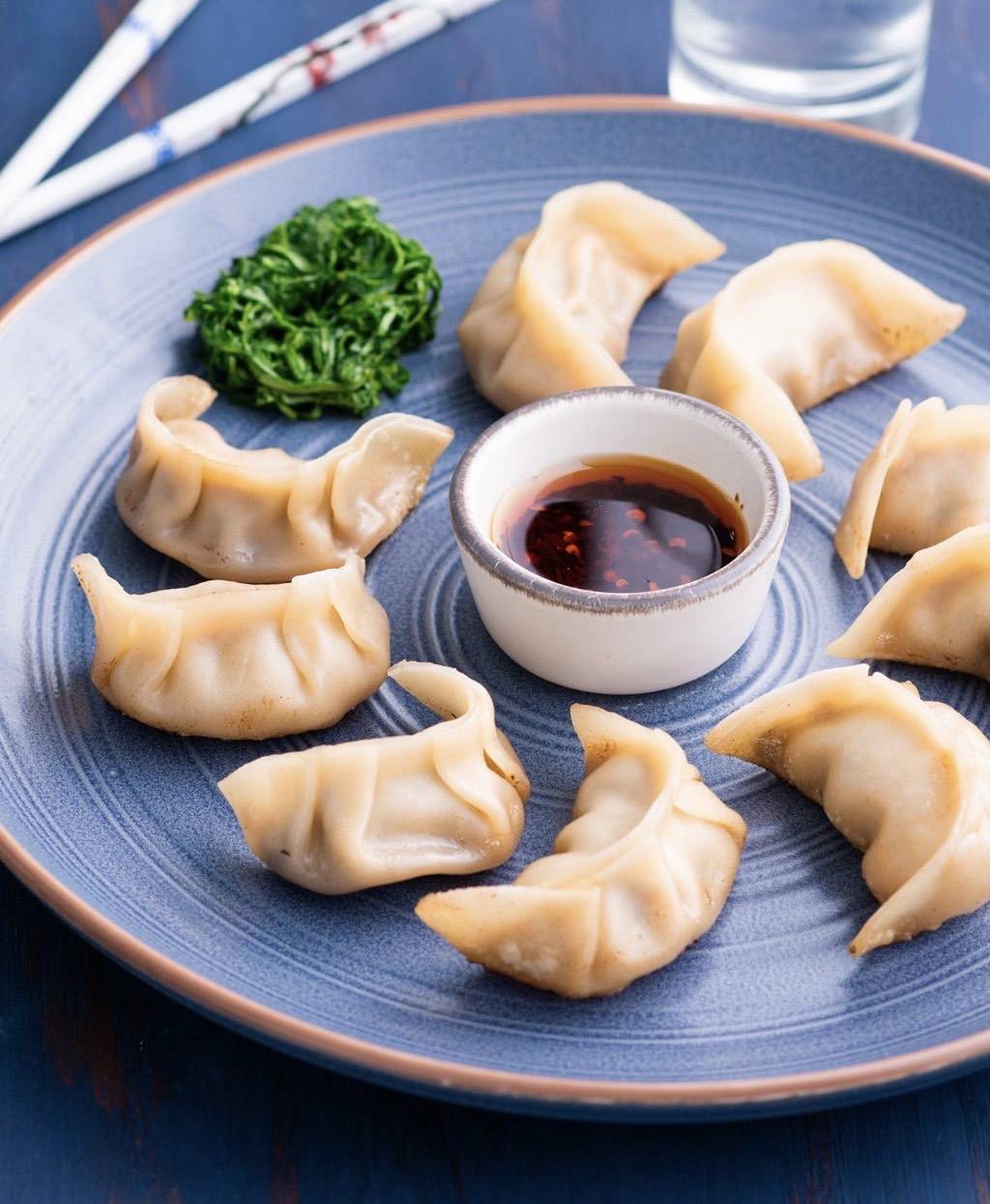 Jiaozi are the most important course of the traditional New Year Feast. Usually, families will sit around the dinner table and wrap dumplings together in the afternoon on Lunar New Year Eve. The reason dumplings are eaten is because they're shaped like ancient silver & gold ingots (ancient money) which symbolise wealth. Legend has it, the more dumplings you eat during the New Year, the more money you'll make next year. They will also wrap a few dumplings with a gold coin in it and the person who gets the coin-dumpling is supposed to have good extra good luck in the coming year.
Eat like a local this Lunar New Year with our take on traditional jiaozi dumplings. Little pockets of history, handcrafted with a delicate casing and an irresistibly aromatic prawn filling; steamed to silky smoothness or pan fried to perfection.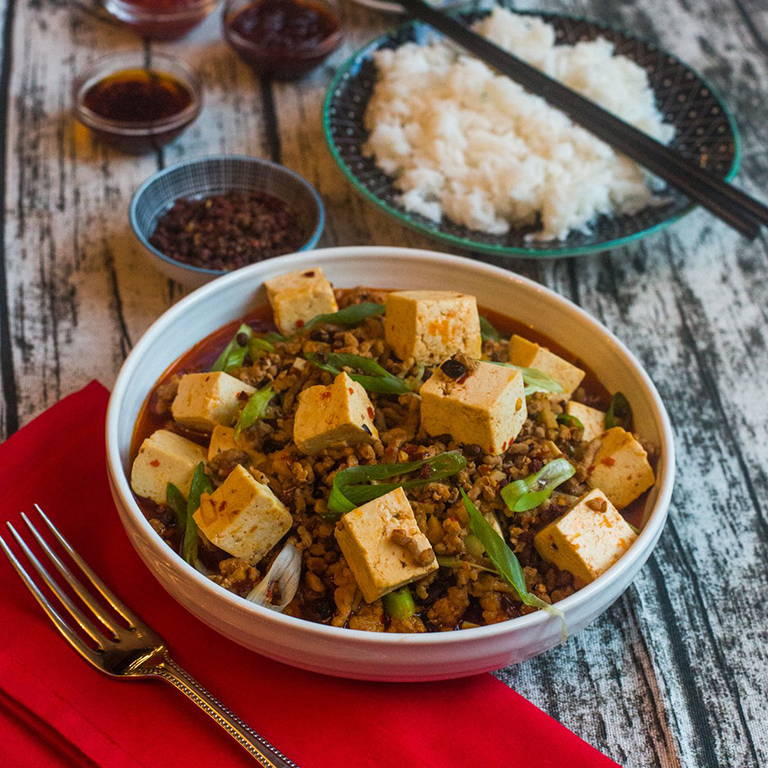 A tofu dish is indispensable on the reunion dinner table during Lunar New Year as it traditionally symbolises happiness and good fortune for the entire family. The folk tale goes that because mortals are afraid the Jade Emperor will send his subordinates to inspect the lives of people on earth, they eat tofu to show that they are living simple lives in an effort to avoid punishment. As a result, the custom of making tofu on the 25th day of the twelfth lunar month has been passed down from generation to generation.
There's no better way to celebrate than with the Asian delicacy: Mapo Tofu. If you haven't tried a steaming bowl of this delectable dish, you're seriously missing out. Served with fluffy jasmine rice, the black bean and chilli paste coat the tender pork and soft cubes of silky tofu in spicy, umami flavour. Our added fresh peas supply just enough of a sweet note to keep you coming back for more of this fiery dish!
Be apart of the Lunar New Year festivities this year and start your FeastBox journey today. With a range of options connecting you to over 55 world cuisines, FeastBox is sure to take you on a culinary adventure! https://feastbox.co.uk/pages/weekly-menu