We've got the perfect recipes to pair with Craft Gin Club's amazing cocktails!
At Feast Box we love complementing our tasty meals with the perfect drink and this month we've partnered with our friends over at Craft Gin Club to bring you something special.
Craft Gin Club is the UK's biggest club for gin lovers! Every month they select one very special bottle of craft gin, including rare and exclusive editions not available elsewhere, and send it to their members in a surprise Craft Gin Club Gin of the Month box that's brimming with delicious mixers and snacks to enjoy with the gin. Pair this box with one of our Feast Box recipes and you have an incredible night of feasting and drinking with quality food and quality cocktails to go around.

But which dish do you pair with which cocktail? That's the real question!

Inspired by our delicious recipes and Craft Gin Club's August 2021 Gin of the Month, Brass Lion Singapore Dry Gin, Craft Gin Club's very own Master Mixologist, Maria Vieira, has thought of some fantastic cocktail recipes to pair with Feast Box's popular Asian and East Asian servings.
Ever wondered which cocktails would work best with a sweet & sour, sushi or noodle dish? Well, wonder no more, with these three mouth-watering cocktail recipes you can take your foodie nights in to the next level.
What's more, to celebrate our partnership, Craft Gin Club is offering Feast Box customers 50% off of their first Craft Gin Club box - just follow this link and use code "FEAST50" to take advantage of this amazing offer today!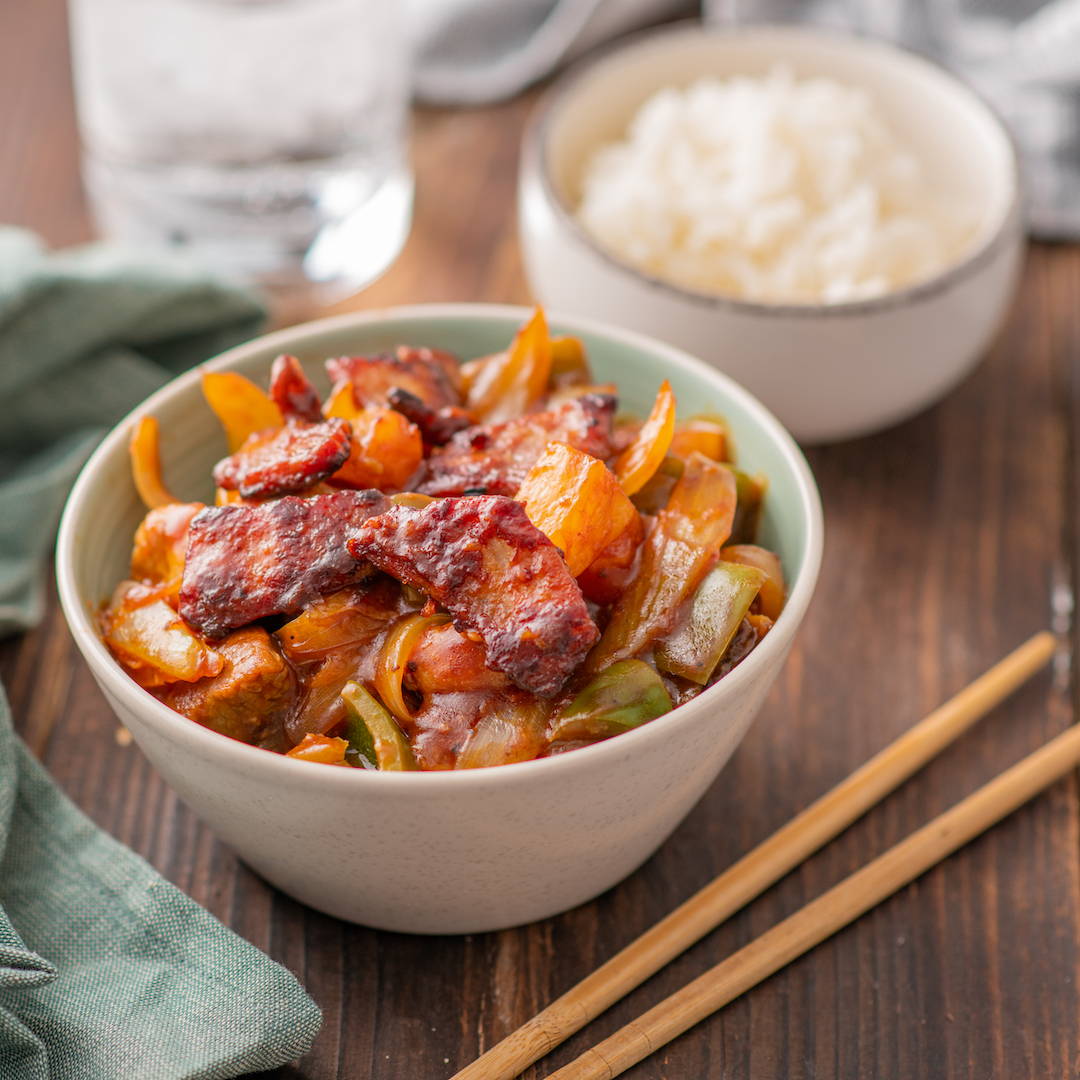 Try our Sweet & Sour Pork dish with The Big Bang Theory cocktail!

We all know sweet and sour dishes from Chinese takeaway menus across the country, whether your preference is vegetable, seafood, chicken, pork or beef, but did you know that it is actually an age-old Cantonese dish representative of a whole cuisine built around that brilliant juxtaposition of sweet and sour flavours. In Cantonese, Sweet & Sour Pork is known as "gu lou yuk" and we pay homage to the traditional way of making "gu lou yuk" with an ingredient that may surprise you: ketchup!
"Ketchup may seem like an unusual addition, but Hong Kong chefs have been using its tangy, umami kick for decades: 'ketchup' is in fact a Chinese word. The competition between vinegar's tang and a more ruity sourness is the heart of the dish, with ketchup uniting both flavours."
-- Feast Box
Maria has come up with the perfect gin cocktail to pair with our Sweet & Sour Pork. A twist on Craft Gin Club's The Big Bang Theory, which is a fabulous chilli, lime and gin cocktail, Maria has reduced the amount of syrup needed so that those bright zesty citrus flavours can shine through to contrast the sticky sweet and sour sauce wonderfully. For an extra savoury kick, try rimming the glass with salt and pepper too!
"This recipe suits the Sweet & Sour Pork dish as it adds an extra kick in between bites. The fresh lime then combines perfectly with the fruity pineapple flavour."
-- Maria Vieira, Craft Gin Club Master Mixologist
Ingredients
50ml gin
25ml lime juice
15ml simple syrup
4 slice chilli
Lime wedge & chilli slices, to garnish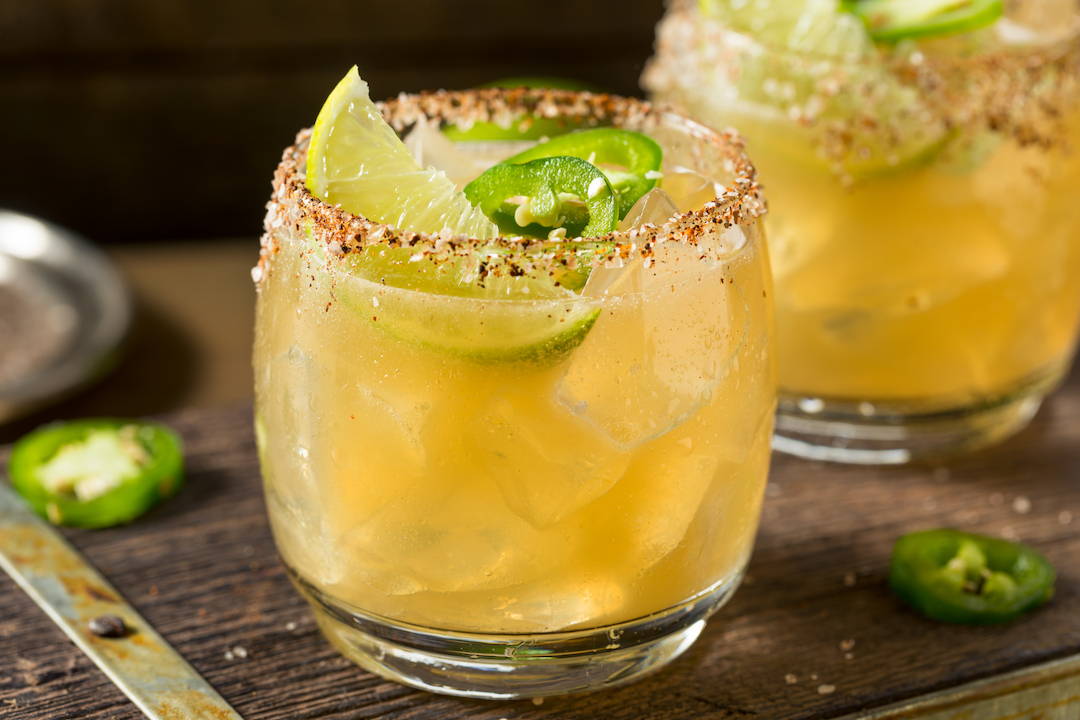 Method
Add all of the ingredients apart from the garnishes to a shaker with ice and shake well. Double strain into a rocks glass filled with crushed ice and garnish with some extra chili slices and a lime wedge.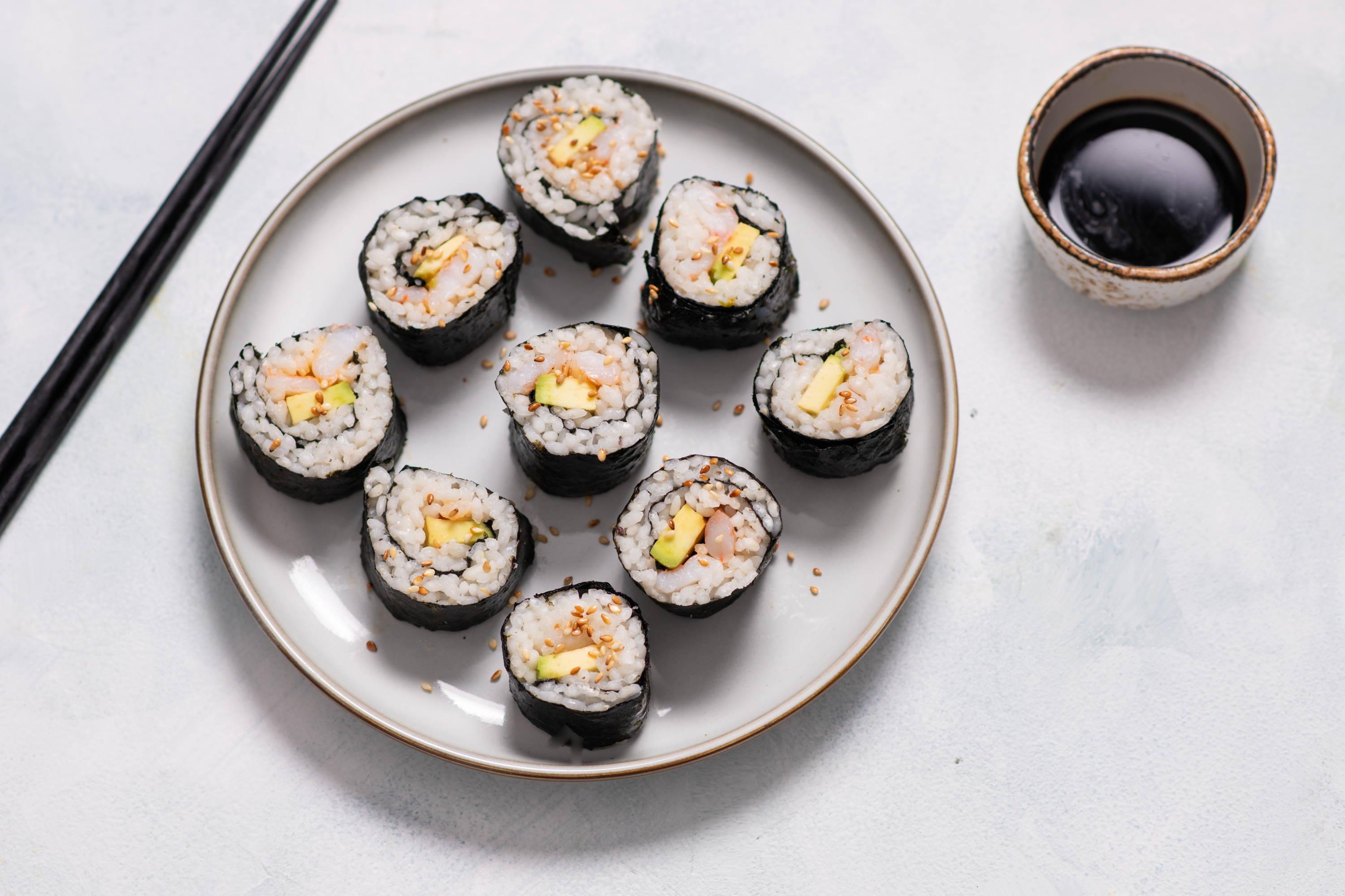 Pair our Prawn & Avocado Sushi Rolls with a Spice as Nice cocktail!
Get your chopsticks at the ready because, from nigiri to California rolls, the popularity of sushi in the UK has grown tremendously over the last few years, and it's easy to see why. That mix of rice seasoned with rice wine vinegar served with tender seaweed, fish (often raw), meat or vegetables is at once refreshing and always full of umami - yum!
What do you serve with sushi? The levels of deliciousness are taken to even greater heights when your sushi is served with the traditional accoutrements of hot wasabi and salty, rich soy sauce to add extra layers of flavour to each delectable mouthful, not to mention the pickled ginger that cleanses the palate and titillates the taste buds after each bite.
The combination of prawn with creamy avocado in our Prawn & Avocado Sushi Rolls is simply divine. Wrapped in seaweed sheets and finished with toasted sesame seeds, they make for the perfect dish for a night in with a gin cocktail or two, especially when that cocktail is Maria's readjusting of Craft Gin Club's Spice As Nice.
"I have adjusted our original cocktail recipe to focus on the flavours of the coriander and lemongrass. Refreshing , green and with a gentle spiciness, this is the perfect accompaniment to the prawn and avocado sushi rolls."
-- Maria Vieira
Ingredients
50ml gin
20ml lime juice
10ml simple syrup
75ml ginger beer
Fresh coriander leaves
Lemongrass stick
Lemongrass stick or coriander sprig to garnish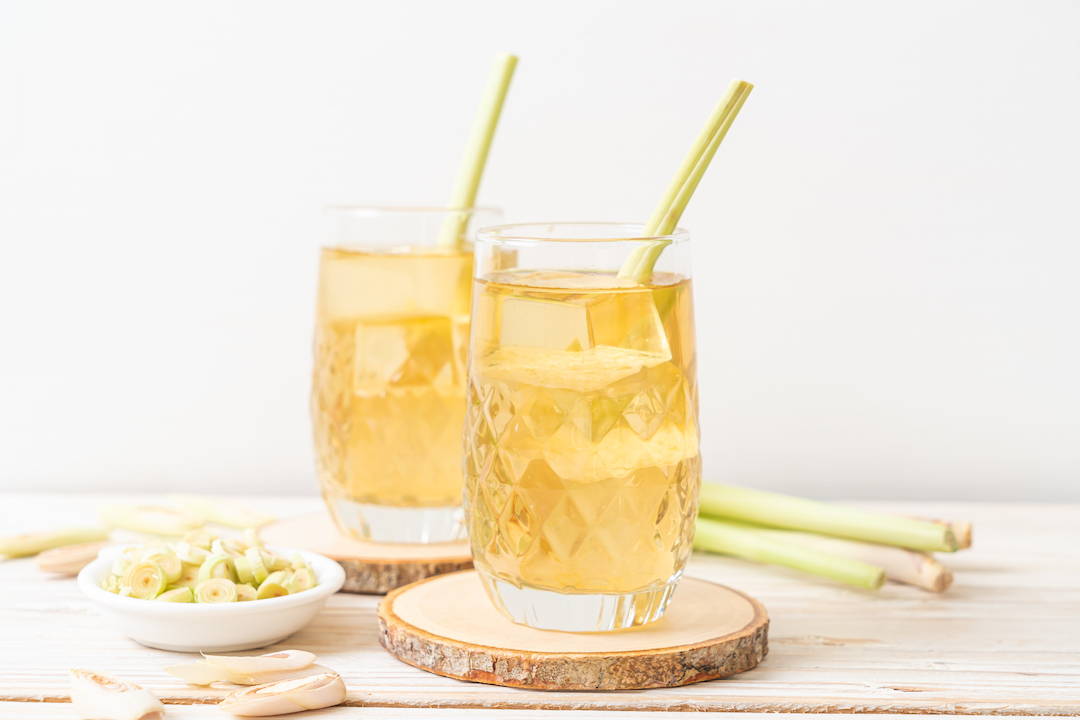 Method
Add a couple of coriander sprigs and 3 or 4 slices of fresh lemongrass to a shaker with gin, lime juice and simple syrup. Fill with ice and shake well. Strain into a highball glass with ice and top with ginger beer (you can double strain with a sieve if you don't like the green bits of the shaken coriander in the drink). Garnish with lime and lemongrass or a coriander sprig and enjoy.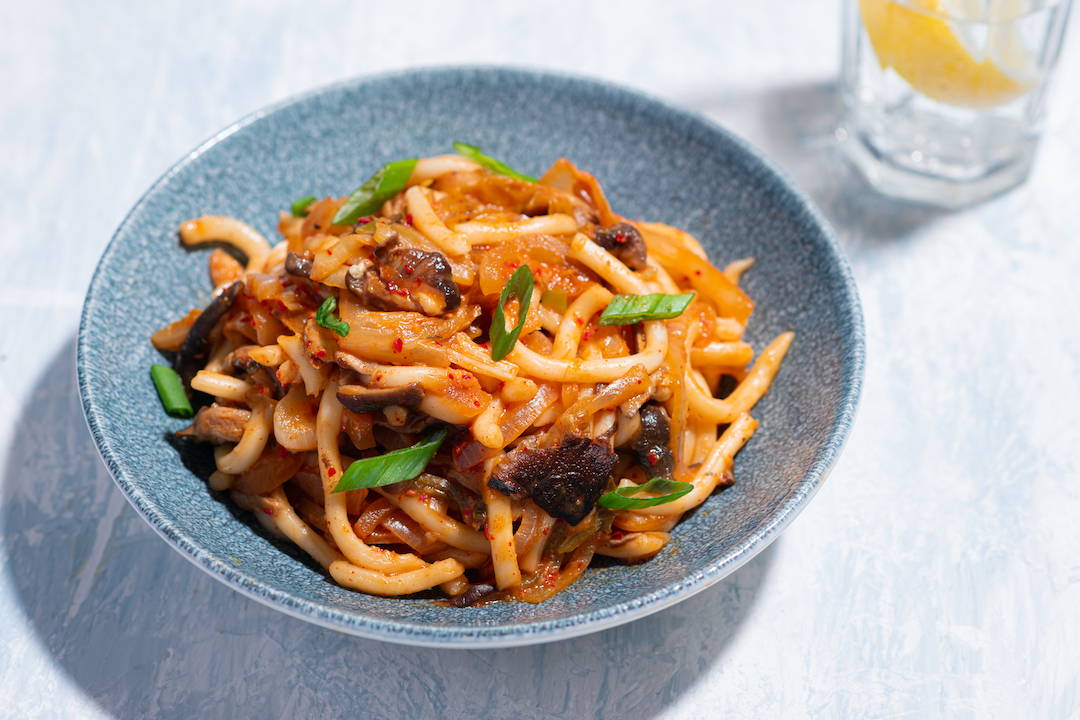 Our Shiitake & Kimchi Udon goes ridiculously well with the Pegu Club
The rich, earthy, umami flavours of shiitake mushrooms are the perfect match for the zinging, spicy kimchi in our lip-smacking udon noodle dish.
If this is the first time that you have come across udon noodles then you are in for a real treat!
Thick and bouncy, udon noodles are doughier than their thinner counterparts, making them the perfect sponge to soak up the flavours of anything you coat them in. What's more, their length makes them perfect for slurping up like spaghetti.
What is kimchi made of? Kimchi is a traditional Korean staple that involves fermenting and salting vegetables, usually napa cabbage, and seasoning them with a spicy chilli paste made from garlic and gochugara (Korean chilli pepper). Used as a condiment or a main ingredient, kimchi is spicy and rich and remarkably complex.
Maria's Pegu Club is the perfect cocktail to match the intensity of such a wonderfully deep and heart warming noodle dish. Originally invented in Myanmar (once known as Burma), just outside of Rangoon, at the famed Pegu Club (named after Myanmar's Pegu River), this stunning cocktail mixes gin with Cointreau and two different flavours Angoustura Bitters, their original Bitters and Angoustura Orange Bitters. It's a sumptuous cocktail that's full of citrus and spice and all things nice!
"Our take on a classic Pegu Club cocktail, which is zesty and citrusy, will cut through the spiciness of the kimchi perfectly."
-- Maria Vieira
Ingredients 50ml gin
25ml Cointreau
15ml lime juice
1 dash Angoustura Bitters
1 dash Angoustura Orange Bitters
Twist of lime, to garnish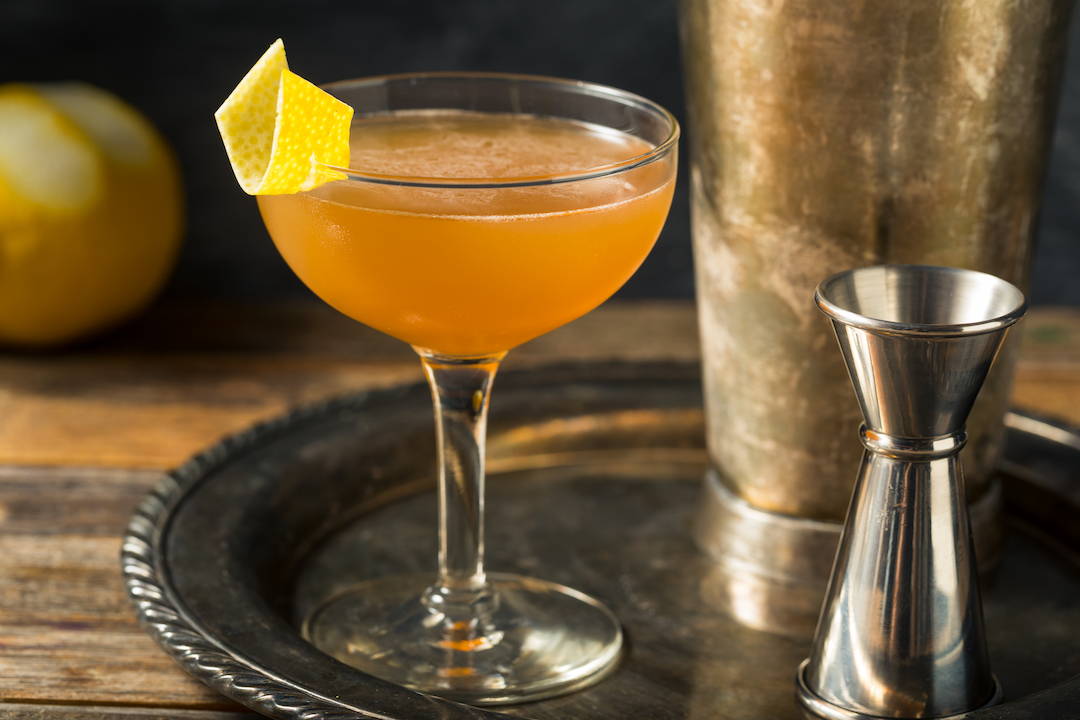 Method
Add all of the ingredients to a shaker with ice and shake well. Strain into a coupette or martini glass and garnish with lime peel. Enjoy!
Don't forget, Feast Box customers can get 50% off their first Craft Gin Club box - just follow this link and use code "FEAST50" at checkout!
Original content courtesy of Ryan Blakeley & Craft Gin Club.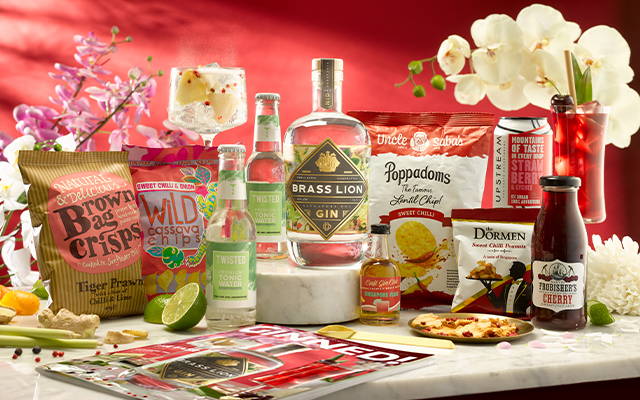 ---