Try the iconic noodle dish from critically acclaimed Korean film Parasite
Just a few months ago, Parasite was released in cinemas and had us all enamoured. Scooping up multiple prestigious awards from Golden Globes to BAFTA's and the Cannes Palme d'ors, Parasite truly captured all of our senses, sending viewers on a rollercoaster of emotions. Bong Joon-ho transports us to South Korea, depicting a story of beautiful stark contrasts: a horribly fascinating black comedy of one unemployed family that takes on a wealthy family living in the affluent hillsides of Seoul. A humorous but chilling tale of class-struggle, family, materialism, love, status and envy.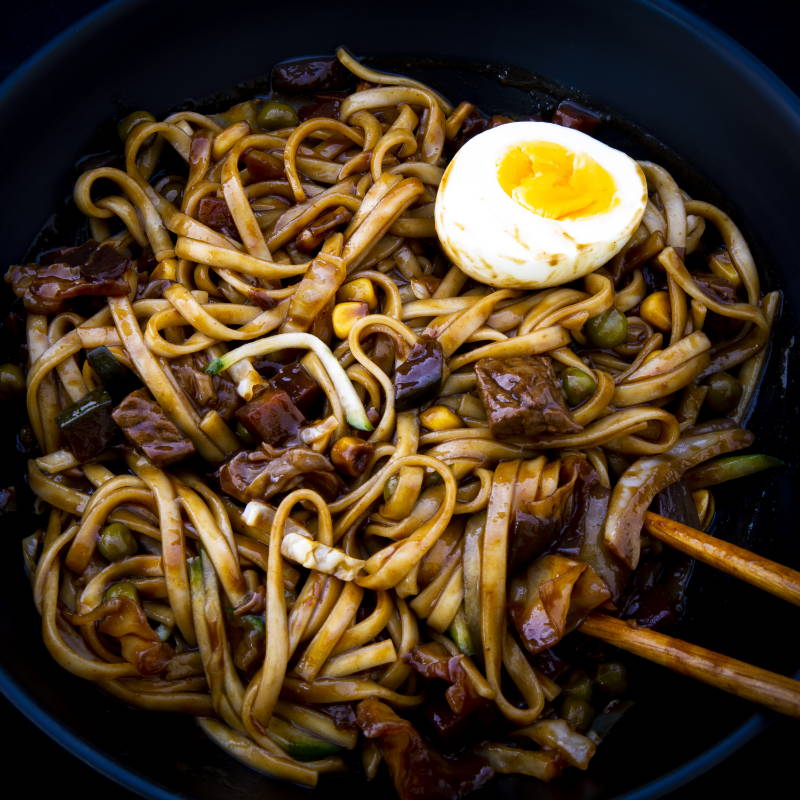 There's no shortage of spellbinding food scenes in Parasite, with peaches serving a pivotal role (*not a spoiler*). However, one scene in particular stood out and had everyone salivating in their cinema seats: the ram-don scene.

Cleverly, ram-don, real name Jjapaguri, is also a delicious oxymoron. An edible mix of class cultures: packaged instant ramen and udon noodles in a spicy oyster sauce, topped with premium quality Hanwoo beef. Essentially, a bowl of instant noodles accompanied by some of the world's most expensive cut of meat.
Now, I know the purpose of an eat-along-movie is that you experience the film in 4D, eating the food featured in said film as you watch. However, Parasite is sadly not available on UK streaming sites at the moment. But if you loved Parasite, or you like the sound of it, why not sit down to Bong Joon-ho's 2017 South Korean masterpiece, Okja? It's available on netflix and tells the story of a girl who raises a genetically modified pig. Not your usual rom-com?

Don't miss out on making ram-don at home for that matter. Here's a simple recipe for the mesmerising instant noodle dish, sans Hanwoo beef. We can imagine that would be pretty tricky to source right now.
1 pack of spicy instant ramen noodles with soup sachet

1 pack of instant udon noodles
For beef marinade (optional)
2 garlic cloves - crushed
If you're using beef, we'd recommend marinating it in the ingredients at least half an hour before you make the noodles.
Dice the beef into equal sized small chunks first, then place it in a bowl to marinade, making sure the pieces are evenly coated
Just before you cook the noodles, add 2 tbsp to a frying pan on a medium-high heat. When the oil is piping hot, carefully add the beef. Cook the beef for roughly 1 minute on each side, so that it's medium-rare
Remove the pan from the heat and once you've prepared the noodles, add the noodles to the beef and continue from step 4
Place the udon noodles in a saucepan and pour over enough boiling water so that they're completely covered. Leave to cook on a steady boil for 2 minutes
After 2 minutes, cook the ramen noodles. Use chopsticks to separate the noodles if they start to stick together. Cook on a steady boil for 1 minute
Drain the noodles, then transfer to a frying pan or wok with the neutral oil (now is the time to add the noodles to the pan of beef)
Turn the heat to medium-high and fry the noodles in the gochujang paste, the ramen soup sachet, garlic cloves and oyster sauce. Add a drop of water if you'd like to loosen the sauce
Toss the noodles well so that they're completely coated
Divide the noodles between your bowls and top with chopped spring onion to serve.

Let us know how you get on and tag us @feastboxuk