Published by Emilie Wolfman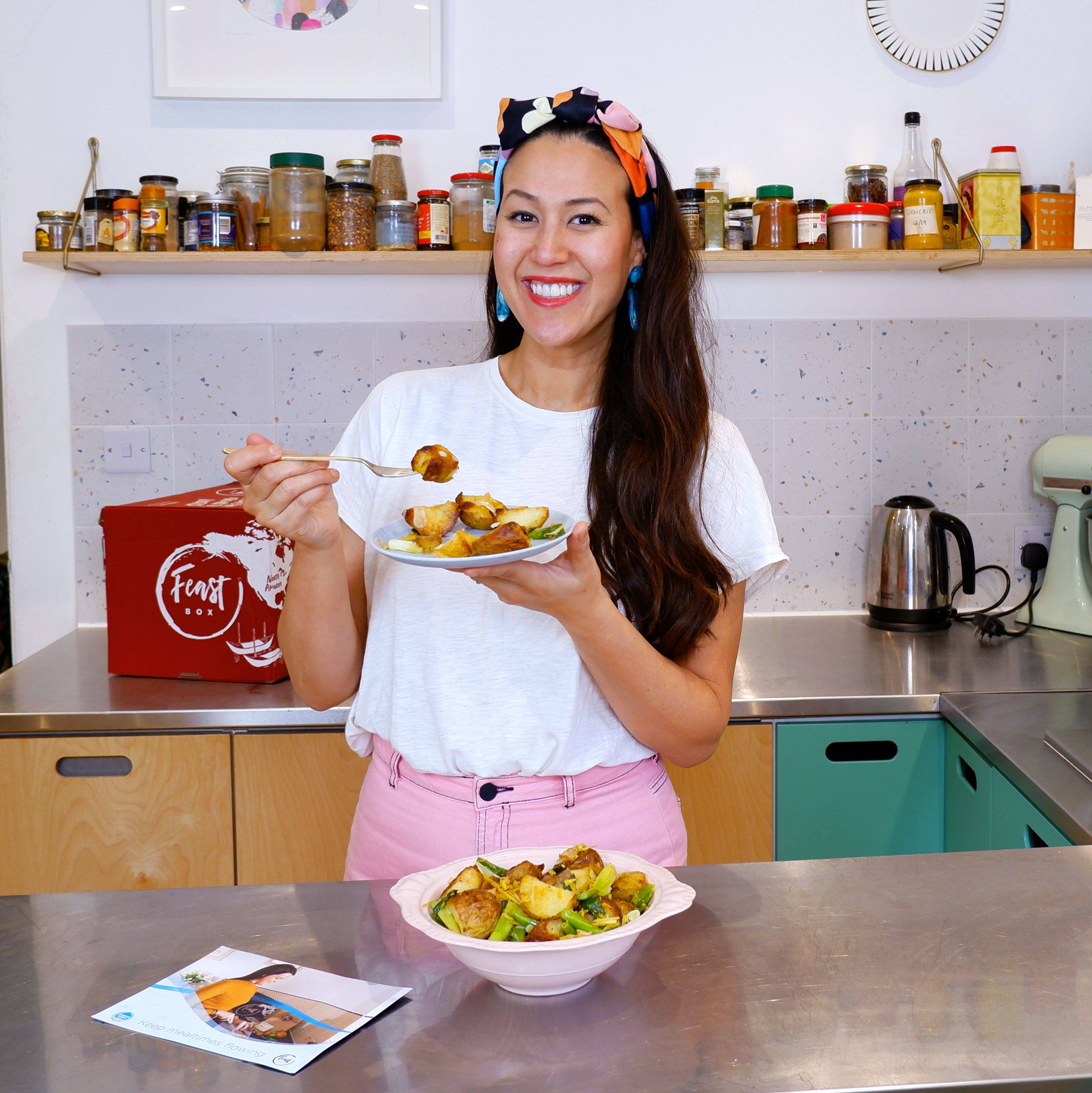 We've had the pleasure of collaborating with Lara to bring you the Indonesian Roast Box. This brand new one-off box joins our party box range and includes Lara's Coconut & Chilli Roast Chicken and Soy & Ginger Roast Potatoes.
The box is now live and you're in for a real treat. Standard roast dinners will never be the same again!
To celebrate the launch, and in honour of International Women's Day this week, we sat down with Lara to hear about her journey to her success, to learn about the book writing process, to pick her brain on where to find the best Indonesian food and to discover more about Indonesian cooking.
What made you become a chef?
I grew up eating Indonesian food, thanks to my Grandmother's delicious home cooking. I'd tried my hand at a few different careers, and I eventually started a street food stall with a friend of mine in London. We sold a really epic Asian inspired steak sandwich and it would sell out every week. It made me realise that not only did I love cooking, but people enjoyed my food and actually wanted to pay for it. It gave me the confidence to pursue it and change careers. I was previously in a corporate job in technology and as the street food stall took off, I started to believe in the potential to do this full time. So I took a leap of faith and got into it.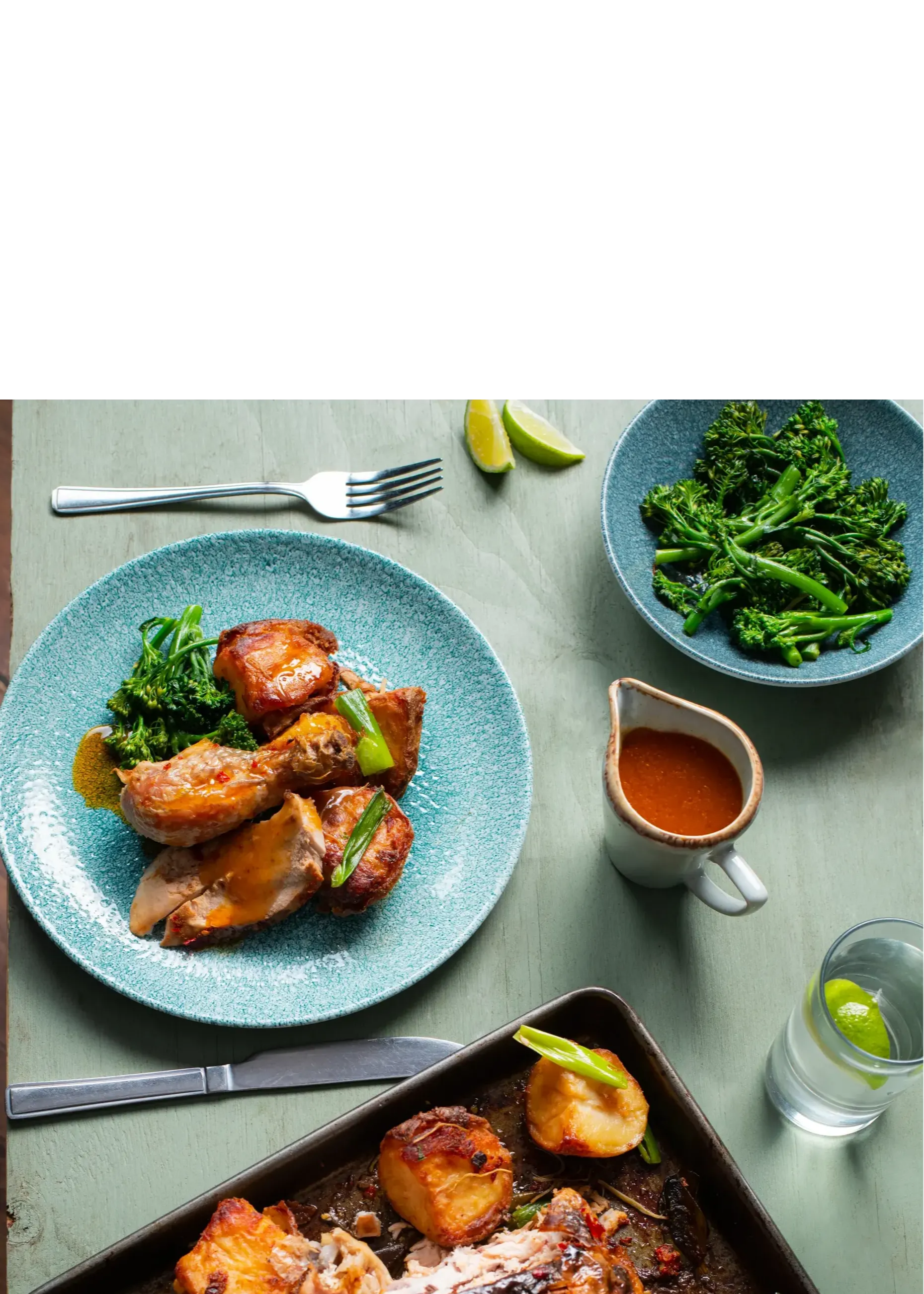 It was beyond a passion, becoming a borderline obsession!

What advice would you give to someone considering a career change, or considering also going into food?

Every waking moment that I had to spare was spent thinking about food, practicing cooking techniques and creating my own recipes. It was beyond a passion, becoming a borderline obsession! If you want to change careers, you've gotta throw yourself into it. Only look forward, never look back. Be prepared to sacrifice other things in your life to make it happen. Invest every inch of energy. That's what I did. I felt like I had a lot of catching up to do as I'd started late in the process. Thankfully, that's what's got me to the position I'm in today. I took a leap of faith at 32 and went to culinary school.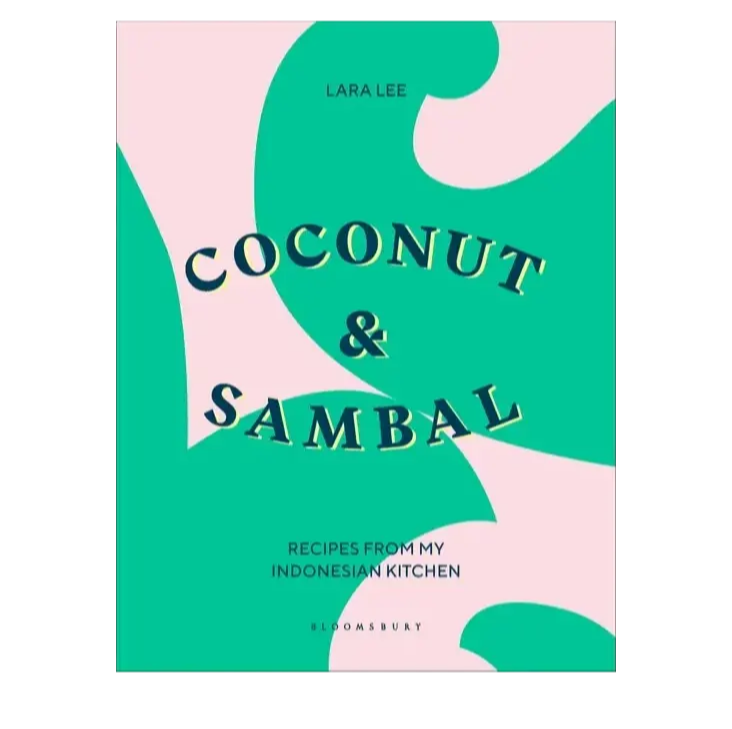 It really makes you realise that you don't need to follow just one garden path in life...

No that's right, you're never too old! That's a really important piece of advice. You're never too old. In culinary school, I was with people from a whole range of ages, I think was in a 'mature age' class, and it was so nice. You could really feel the passion in the room, and the fire. Nobody ever had a sick day at culinary school!
I entered myself into a food writing competition and got runner up for that. It's called the Yan-Kit So award
Did you know you wanted to write your book when you were at culinary school?

I did a few stints at Michelin restaurants and while it was truly magical, I kept finding myself being brought back to the soul food that I was brought up on. I also realised how little the mainstream food media or the public knew about Indonesian food. There was a real opportunity to become an ambassador for Indonesian cuisine. So yes, it was in culinary school that I got the idea for writing Coconut and Sambal. I entered myself into a food writing competition and got runner up for that. It's called the Yan-Kit So award. I was also lucky enough to receive amazing advice from really inspirational people along the way. I had great mentors. Fuschia dunlop really did encourage me to keep going, she read my proposal and wrote a quote for the book. Sri Owen, who's like the grandmother of Indonesian food, gave me great advice and encouragement too.
Did you travel around all of the different islands when you went to Indonesia? Did you want to go to places you already knew about?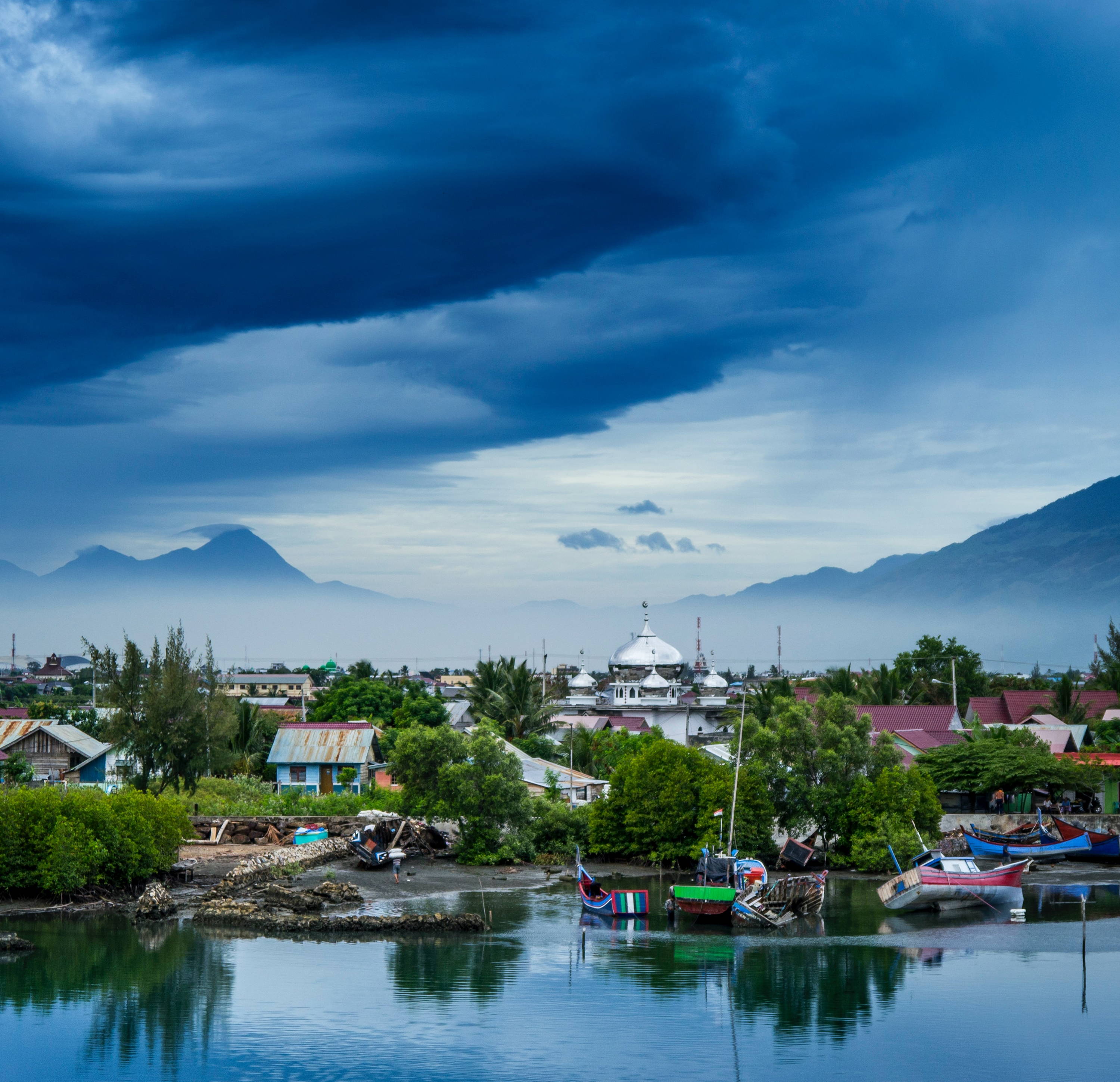 It was a mix between meeting my own extended family, they lived between Java and East Bali and trying to make my way round the islands. I was learning family recipes from aunties, great aunties, cousins and so on. I wanted to reach as many destinations as I could but Indonesia has 17500 islands, so i was never going to reach them all. But I did speak to so many different people. Both home cooks and well regarded chefs - they all led the way and told me where to go and who to speak to, going out of their way to introduce me to their network. I would wake up at 5am to get to the local food market for 6am and we'd probably cook until 9 or 10 at night. If i wasn't cooking with someone, i'd go to different areas and try the different restaurants and speak to the cooks there.
I was learning family recipes from aunties, great aunties, cousins and so on
London and the rest of the UK don't have a massive Indonesian food scene, although it is quickly growing. Have you been to any nice Indonesian restaurants in london?

There's a great street food store called Kaki Lima, they used to be at kings cross. They sell Indonesian soto, which is a fragrant traditional soup. Another great one to shout out is Eat with Spoons. It's like a supperclub in East London and the owner does vegan Indonesian food. I try to support Indonesians in london as much as I can.
The Indonesian food most of us know about is satay and other grilled meats and fish. Are there a lot of options for vegans and vegetarians?

When we think of Indonesian food we might think of satay, grilled meats or suckling pig, but when it comes to eating meat in Indonesia, it's actually quite an expensive product. People don't usually eat it as an everyday food, it's something you'd eat at special occasions, like weddings. You might buy it as street food sometimes, but generally at home you'd mostly eat a lot of tofu, tempeh, fish and seafood. That's the everyday food that people would eat. Vegetables are really celebrated in Indonesia too. The veg products are just so fresh and so vast, which makes it a really special part of the way Indonesians eat. They know how to treat their vegetables.
People don't usually eat meat as an everyday food, it's something you'd eat at special occasions, like weddings... at home you'd mostly eat a lot of tofu, tempeh, fish and seafood.
When you were writing your book, did you find some of the vegetables or other ingredients difficult to track down?

Yes. A lot of the ingredients are quite difficult to discover and I worried about changing the recipes too much from what they should be. But the point of my book was to allow people to engage with the spirit of Indonesian cooking, and allow anyone, no matter where they live, to be able to cook the dishes. I learnt about 300 recipes when I was in Indonesia and I had to cut a lot of those down as some recipes I just didn't want to change too much at the risk of losing the integrity of the dish. But because Indonesian food isn't yet in the mainstream, I didn't want someone to pick up the book and be afraid to cook from it because they couldn't find the ingredients.
So one of the recipes we've collaborated with you on is the soy and ginger roast potatoes. Would you say that this recipe has been adapted or would roast potatoes still be eaten in that way in Indonesia?

That's one that has been adapted slightly. It's adapted from a dish called sambal goreng kentang (fried potatoes). Indonesians do have ovens, but not all Indonesians use them very often. They'd primarily use a portable gas stovetop, and traditionally in a wok. They usually deep fry the potatoes in the oil, and then add a sambal on top. So this is one of the recipes I have adapted and it's more of my own take on it. I don't mind deep frying in my own kitchen , but i know lots of people don't like doing that. I wanted to recreate something that people would want to cook easily, so i thought that roasting them instead of frying would be the best way to go.
One of the last things I wanted to ask was about sambal. I know that there's hundreds of different types of sambal and loads of different ways of preparing it. So i'd like to know, what makes something a sambal?

Basically, sambal always uses the chilli pepper, it's a hot, spicy condiment that Indoensians just can't live without. Sambal is typically prepared with ginger, shallots, makrut lime leaves, tomatoes but there's a whole host of ingredients that could be put together into a sambal. It can be boiled and then ground into a paste, it could be fried in oil and then ground, or served raw and thinly sliced then mixed together with soy sauce or kechap manis. Kechap manis is a type of fermented soy sauce, Everyone has their own family recipes for sambal too. At its heart sambal is punchy, full of umami. Even in the poorest of households, you might just eat a plate of rice with a portion of sambal and it can really turn the blandest of meals into a celebration. It's so delicious and so vibrant. It's kind of traditional to always have at least two sambals at the dinner table at one time. It's an essential condiment in Indonesian cooking, you really won't find a table without one.
Are any sambals tied into a particular festival or occasion?

Actually, it's more that the sambals change depending on the region of Indonesia that you're in. For example, in Bali, the sambal is lovely and raw and fresh. It's called sambal matah - it's got lemongrass, chillies, marquis lime leaves and makrut lime juice. They're different everywhere you go.
Which flavours define a sambal?

It kind of depends where it's been cooked. Some people would use palm sugar in there. Mostly a nice steady heat and a bit of sour , and a little bit of subtle sweetness. The heat certainly shouldn't overpower the dish, it should compliment the dish.
Thanks so much for chatting with us Lara!
Take a peak at the menu this week: