The Ultimate Valentine's Day Date Night in With FeastBox
If there's a key to anyone's heart, it's good food. Have you been taking your loved one to the same restaurant every year for the last few years? Think it's time to switch it up.
Nothing says 'I love you' like a home-cooked meal, but don't worry, not all of us are professional chefs. Whether your skill level is beans on toast or cheffing up a foie gras, FeastBox ensures you avoid all potential kitchen disasters and whip up a delicious restaurant quality Valentine's Day spread that will surely impress your date.
If you've always wanted to take a cooking class in Thailand or share a romantic meal amid the bustling medinas of Marrakesh, FeastBox is here to help you create the perfect, authentic (and romantic) meal in the comfort of your own home. So, light a few candles, pop open a bottle of bubbly, put on some tunes that match the origins of your dinner for some added ambience, and get cookin'. The ultimate date night is only 45 minutes away.
We've Got Just the Recipes for Your Reservation In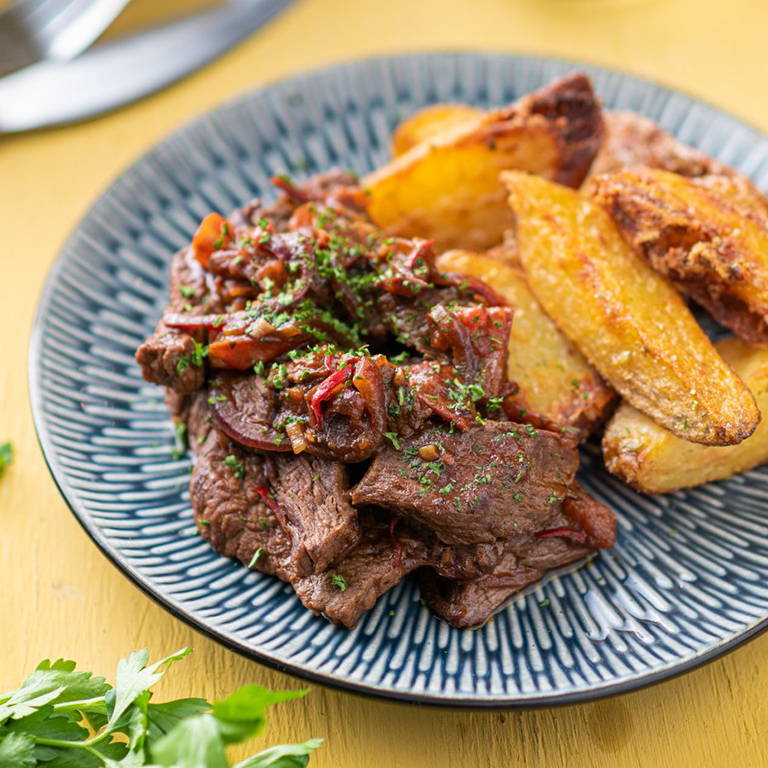 Steak - the quintessential Valentine's Day dinner, but of course in FeastBox style, we had to include some exotic flavours. A beloved Peruvian dish of aromatic, stir-fried beef in a gravy of fruity amarillo chillies, tomatoes, herbs and soy sauce, served with buttery chunky chips.
Middle Eastern Coriander Crusted Cod With Tahini Mash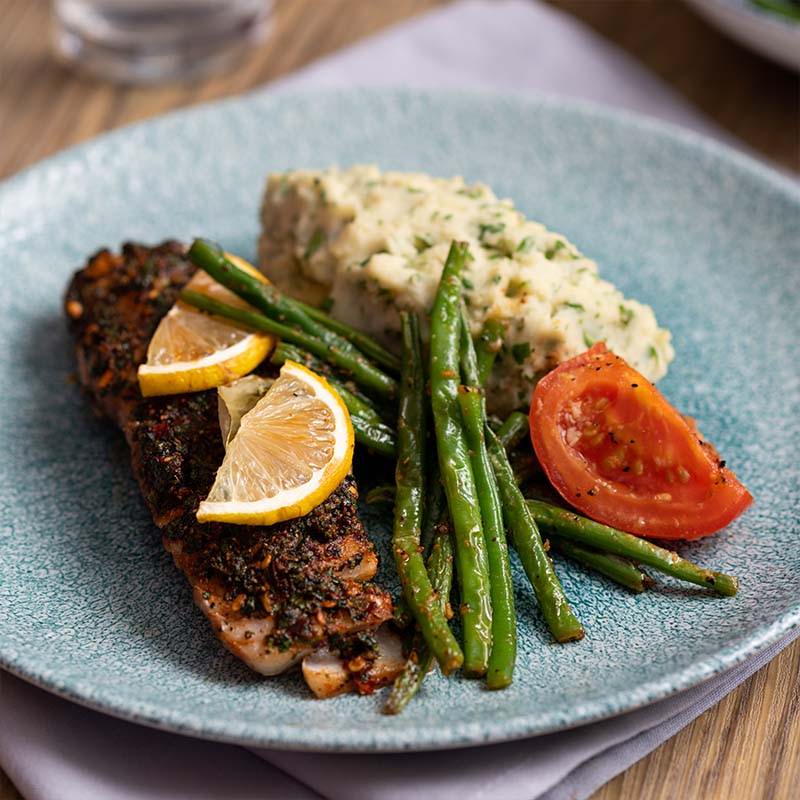 Perhaps you're after something lighter than steak - our Middle Eastern Coriander Crusted Cod with Tahini Mash is the perfect alternative. The pairing of fish and tahini is a flavour combination we couldn't resist. It's the coriander, baharat and chilli flakes that are added to the breadcrumbs that add flavour and crunch to this cod fillet. The mashed potatoes and green beans on the side are all you need for a show stopping Valentine's Day dinner.
Chinese Ginger Chicken and Lotus Root with Sticky Rice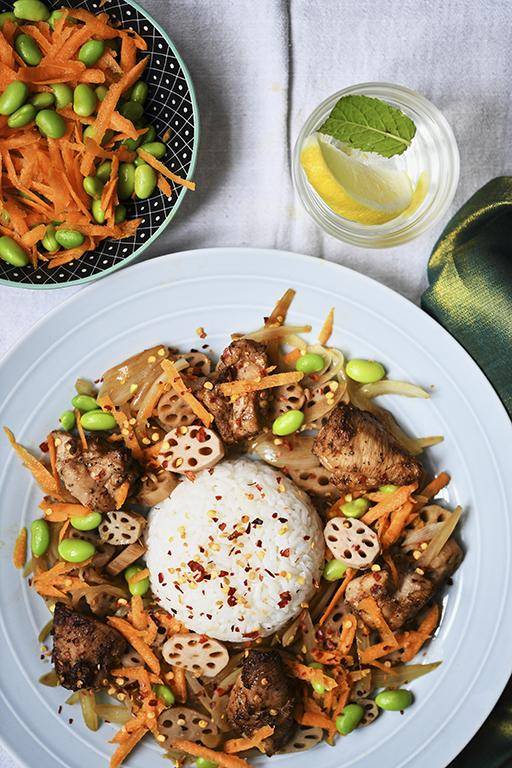 There's got to be a chicken dish on the Valentine's Day menu! Chucky lotus root and chicken simmered in a marinade of crushed ginger, pepper, red chilli flakes, soy sauce and cornflour. Served with fluffy jasmine rice; enjoy the bold flavours and different textures of this hearty dish.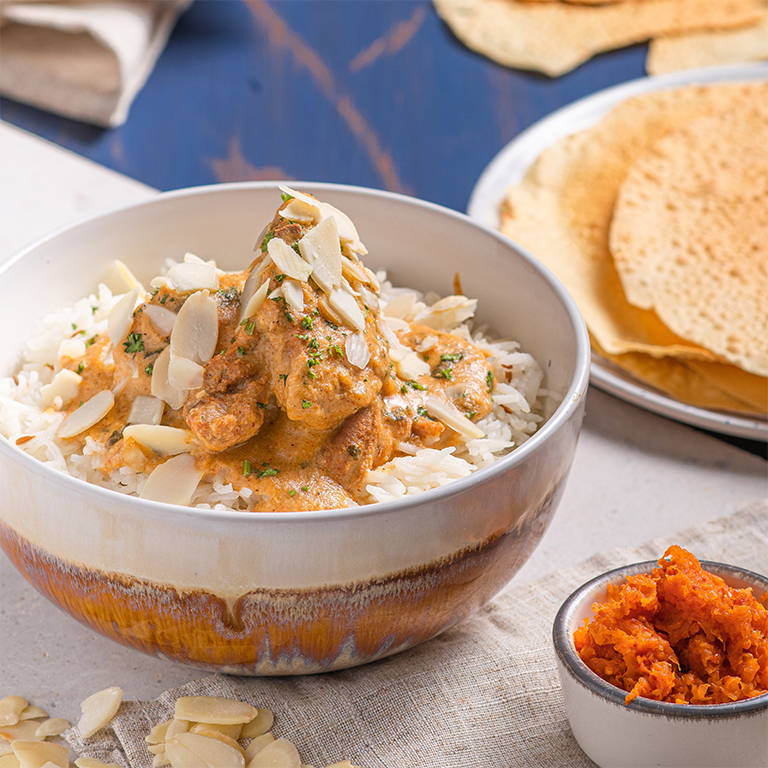 Chicken curry, a beloved British favourite, you can't really go wrong! This Amritsari Chicken Curry will no doubt leave you coming back for seconds - its chicken doused in a subtly nutty, teasingly fragrant sauce. We've perfectly paired the crunch of papads and the tang of our carrot pickle to provide a delicious contrast.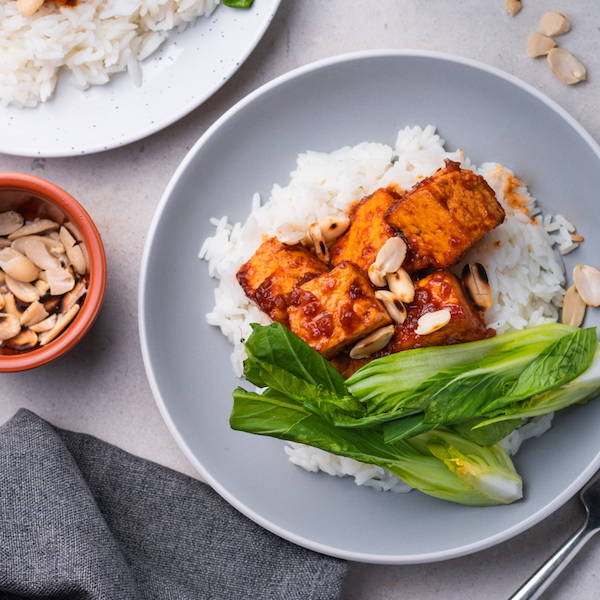 If you haven't tried a steaming bowl of this Korean Fried Tofu yet, this dish will surely impress your other half. Served with fluffy jasmine rice, the sticky glaze made of gochujang, mirin and soy sauce coats the soft cubes of silky tofu in irresistible, umami flavour.