Three Ways To Spice Up Your Christmas Leftovers
We all know that period between Christmas and New Year's where you've been lying in till noon, devouring any festive foods in sight and re-watched Love Actually for the millionth time.
Every year many of us invest in a turkey that could feed a village and cook enough veg to last us a year. After the festive feasts come to an end, next comes the Christmas leftovers. Your fridge full of Christmas remnants with endless possibilities, you just need to know what to do with them. We all know the classic Christmas leftover food, a hefty turkey and stuffing sandwich with all the trimmings, and what's not to love about that? But with 2022 fast approaching, why not set yourself a new challenge by using up your various Christmas ingredients in ways you've never thought of before!? Our Christmas recipes are here to inspire your next trip to the fridge, so when you fancy peeling yourself off the sofa, it's time to get crafty and give that Christmas dinner another lease of life.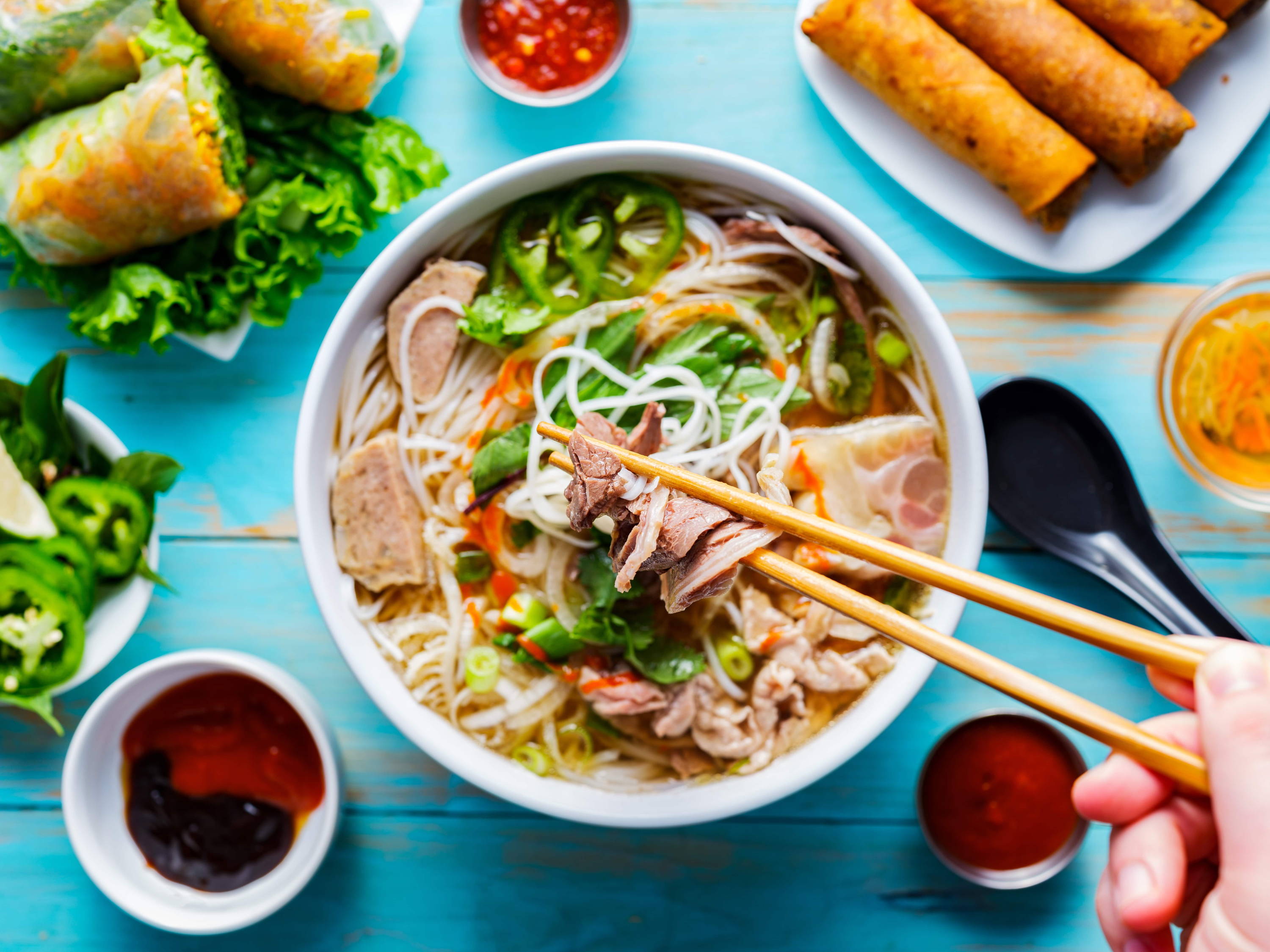 Perhaps you're after something light on Boxing Day to counteract all the other heavy foods you've been indulging in over the festive period. If that's the case, our Vietnamese Turkey Pho is the perfect, light dish for you. The aromatic broth is really the hero of this dish, hosting a plethora of vegetables and infusing the leftover turkey.
250g leftover cooked turkey
200g flat rice noodles
1 sliced onion
1300mls chicken stock
1 star anise
8 black peppercorns
¼ tsp white pepper
1 slice of ginger
1 tbsp fish sauce

1 finely sliced red chilli

1 finely sliced spring onion

1 lime quartered into wedges

1 handful of beansprouts

1 bunch of Thai basil

1 bunch of coriander

1 bunch of mint
1) Place the sliced onions, black peppercorns, star anise, sliced ginger, chicken stock and half of the white pepper in a large saucepan over a medium heat. Bring up to the boil then simmer for 5 minutes.
2) Add the fish sauce and a squeeze of one of the lime wedges into the pan.
3) Next, add the rice noodles and cook for 5 minutes before adding the turkey for 1 minute. Take off the heat.
4) Divide the noodles and soup between your bowls, removing the star anise and peppercorns so as not to eat. Finally, top each bowl with beanspouts and garnish with a lime wedge, herbs and chillies to taste.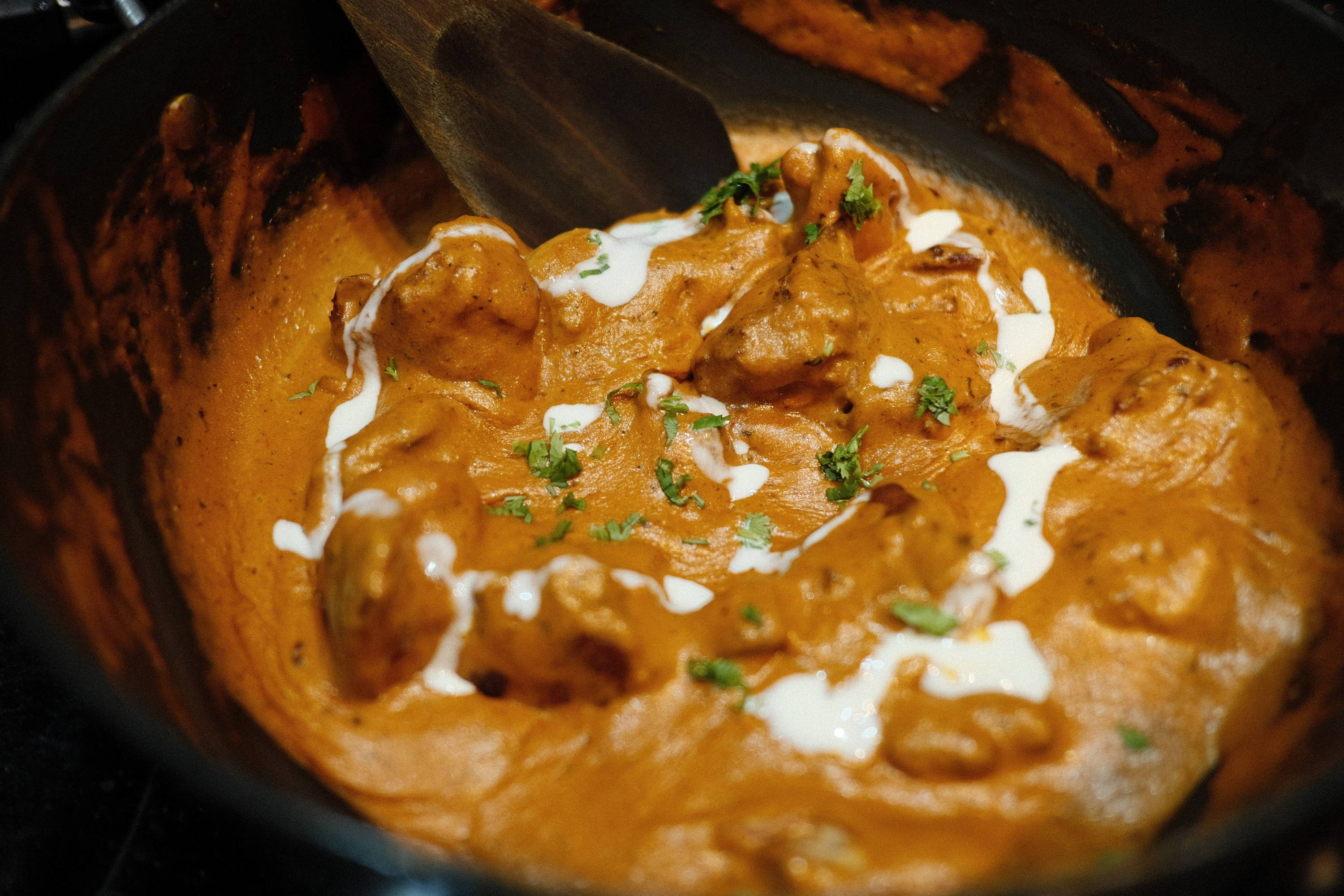 A delectable culinary wonder, the Tikka Masala is considered British-Indian cuisine's most famous creation. Spice up your leftovers by dousing your turkey trimmings in a creamy, vibrant sauce packed full of aromatic, Indian spices, aiming for that dynamic masala flavour. Made in just one pot, this is truly the perfect Boxing Day dish. Quick, no fuss and no more cleaning up!
300g leftover cooked turkey

1 finely chopped onion

3 crushed garlic cloves

1 tsp grated ginger

1 finely chopped green chilli

1 tsp cumin seeds

½ tsp turmeric

½ tsp ground coriander
½ tsp paprika
½ tsp garam masala
50g ground almonds or cashew nuts
200g passata
100mls double cream
50ml natural yoghurt
1 bunch coriander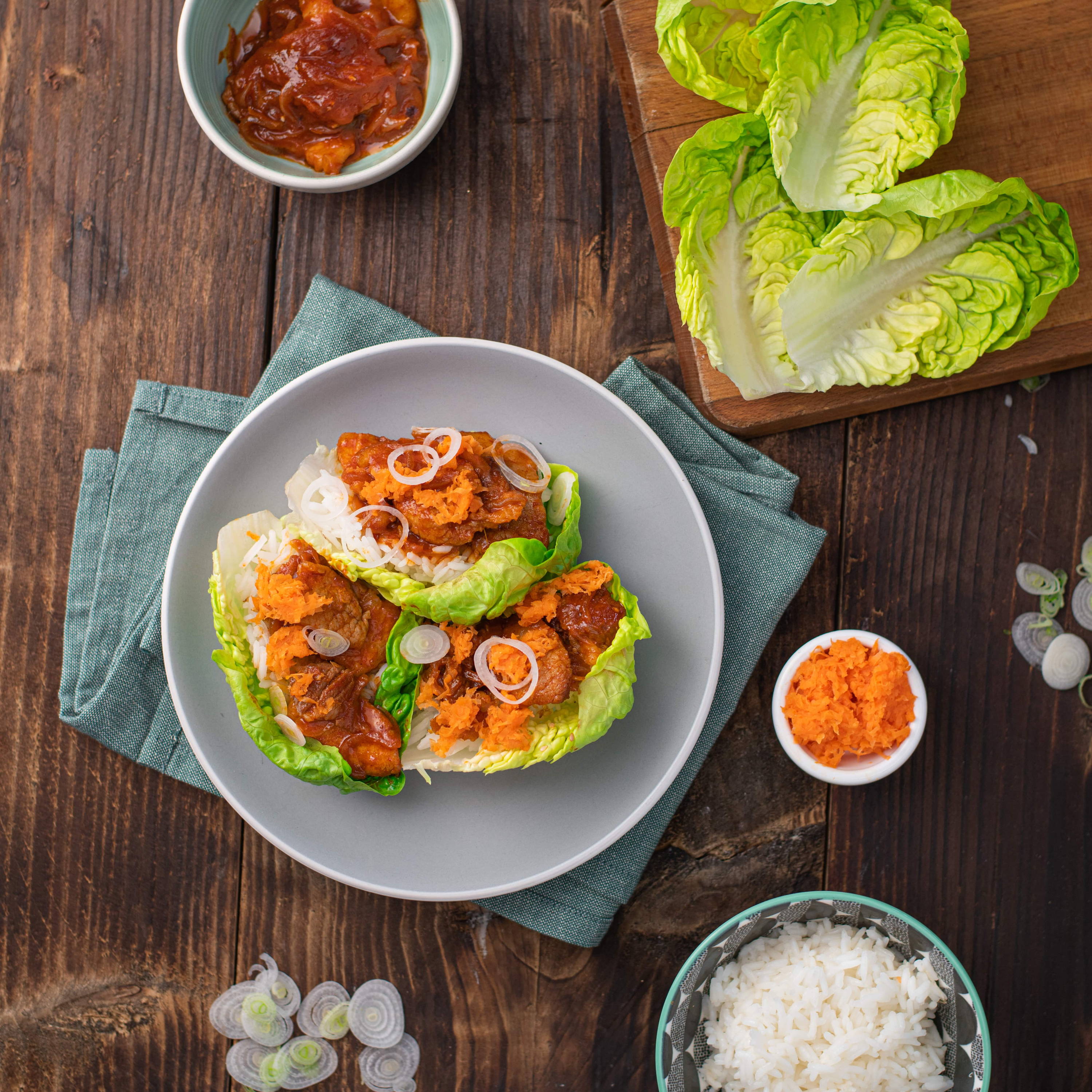 These sticky-sweet turkey ssam lettuce cups are vibrant and refreshing parcels of joy, ideal for cutting through any stoginess as a result of any overindulging from yesterday's Christmas dinner. They involve everyone in a shared ritual where everybody builds their own ssam cups to their liking, helping to really take the leg work out of the cooking.
300g leftover shredded cooked turkey

1 tsp of grated ginger

1 sliced spring onion

1 tsp sesame oil

1 tbsp soy sauce
1 crushed garlic clove
1 finely chopped, deseeded red chilli
1 tbsp mirin
1 lime
1 tsp fish sauce
1 tbsp water
Pinch of sugar
10-12 little gem lettuce leaves
1 grated carrot
1 bunch of coriander
1 finely sliced spring onion
12 cucumber slices
Kimchi
1 tbsp toasted sesame seeds
1) Heat your oil over a medium heat and add the grated ginger and spring onions. After these become fragrant, add your leftover turkey. Drizzle over your sesame oil and soy sauce and stir well. Remove from the stove when hot and ready.
2) Combine all the ingredients for the spicy sauce, stir and set aside.
3) On a plate arrange the lettuce leaves then spoon the turkey into each lettuce cup and top with the grated carrot, sliced cucumber, coriander, spring onions and kimchi. Sprinkle the toasted sesame seeds on top and finally spoon some spicy sauce into each cup, or use it as a sharing dip!
Want more recipes? Discover FeastBox, the UK's top rated recipe box, specialising in world food. We deliver weeknight-friendly recipe cards with straightforward instructions and ingenious tips, along with all pre-measured and authentic ingredients sourced from over 50 different countries. Whether you're a seasoned chef or novice cook, with every box, you'll learn something new in the kitchen, speed up your preparation time and discover hard-to-find world ingredients, sourced by a team of dedicated experts. Start your journey today! https://feastbox.co.uk/
Just after ingredients? Feast Box is powered by our sister company Red Rickshaw; home to premium quality, hard-to-find ingredients from all over the world, sent straight to your door. Red Rickshaw connects you to the flavours of the world. Whether it be the aromas that remind you of your childhood kitchen, or embarking on a culinary adventure with ingredients you've never seen before, Red Rickshaw will have what you're looking for! https://www.redrickshaw.com/?gclid=CjwKCAiAh_GNBhAHEiwAjOh3ZM8W1Lt3oWJigyR2IPJMEqAupd1cTXiqH5eyOvXwc-Ub2DGSN-zjPRoCR8YQAvD_BwE