Try Meat-free Classic With FeastBox
As we approach 2022, thousands of people across the globe plan to embark on the journey of veganism. Whether you're planning to be vegan forever, just doing Veganuary or are taking small steps towards eating more meat-free, you're doing something to save the planet. Be it big or small, whatever you do will make a positive impact on the planet, animals and your health.
Transitioning to a vegan lifestyle can seem really daunting and a lot of people have no idea where to start. We're here to tell you that often the idea of a big lifestyle change is a lot scarier than actually doing it! At FeastBox we make it easy and accessible to explore meat-free meals by taking out the hard work for you. Our weekly changing menus will take you on a voyage of discovery from over 50 different world cuisines. Our boxes come with easy-to-follow recipe guides and pre-portioned ingredients so you spend less time planning meals and sourcing produce, and more time exploring the flavours of the world. Not only that, our recipe boxes teach you transferable skills so you can get creative in the kitchen and come up with your own meat-free recipes.
Meat-free Doesn't Mean Flavour Free
Trying to eat more meat-free doesn't mean you need to sacrifice your favourite meals. At FeastBox we give classic dishes a vegan makeover so you can tuck into your favourite dishes while still doing your bit to save the planet. We've gathered a list of our favourite classic dishes with a meat-free twist to help inspire you to make the swap - from Black Bean Tacos to Katsu Curry, even die hard carnivores will be coming back for seconds! Explore this month's menu: https://feastbox.co.uk/pages/weekly-menu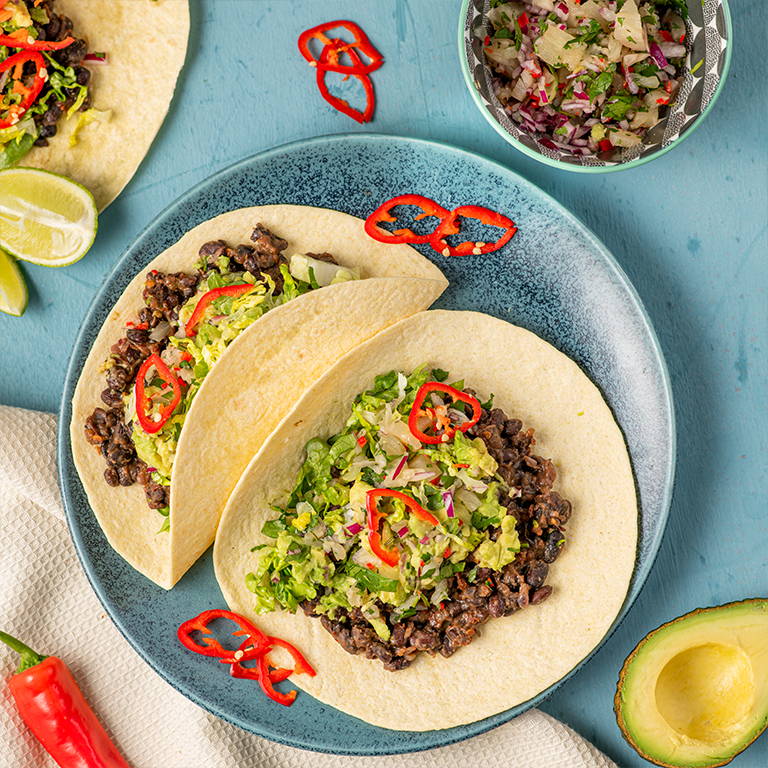 A warm tortilla with a dollop of filling - the taco could not be simpler yet its variations are endlessly diverse. Only a culinary tour across Mexico where market stall owners compete to show off their little creations could show you the full variety. For our meat-free alternative we've swapped out the classic pork or beef for smashed black beans packed with a fiery chipotle kick, soothed with refreshing guacamole and salsa.
Vegetable Katsu Curry Udon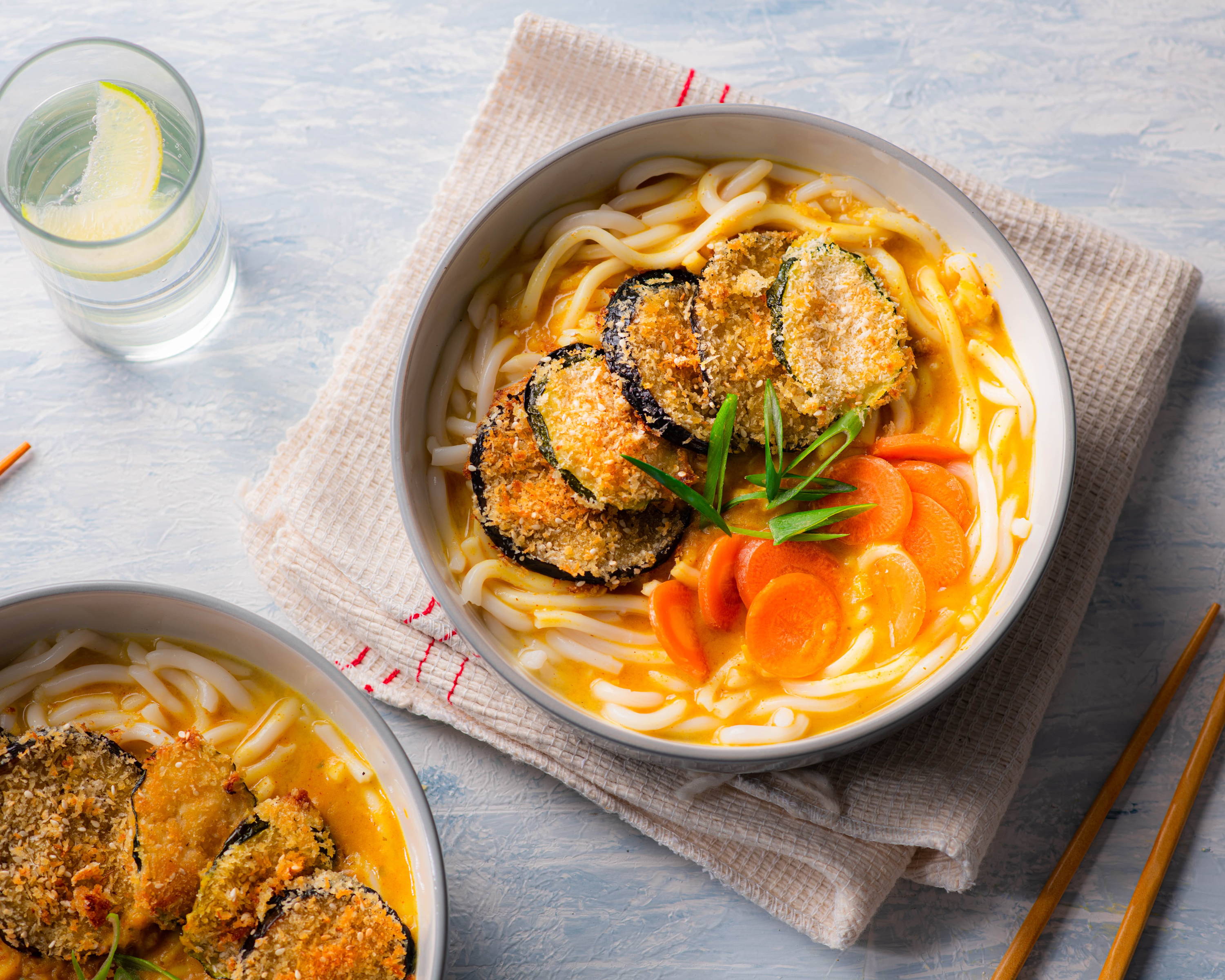 Yoshoku ('western-style') restaurants had been around for over half a century before (legend has it) baseball star Shigeru Chiba walked into one in 1948 and asked for his two favourite dishes on one plate - kare, a silky-sweet gravy spiced with imported British curry powder, and katsu, a crispy panko-coated cutlet. Yoshoku food soon thrived amidst Japan's post-war economic boom, with katsukare its deserving figurehead. In recent years, Japanese curry houses have offered endless customisations, with katsu curry udon becoming a popular and playful twist on the classic dish. For our vegan variation we swapped out chicken or pork for roasted aubergines coated in seasoned panko breadcrumbs bound with coconut milk.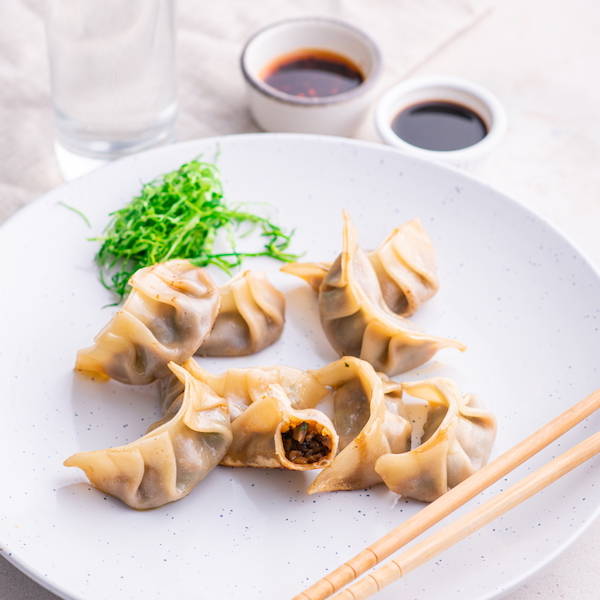 Historically more popular in northern China where wheat is more common, these little packages of joy are an enduring cultural symbol across the country. Whether in their folding or filling, jiaozi can be as simple or complex, as elegant or rustic as you want them to be. They're a perfect pick-me-up breakfast or a hearty banquet feast, steamed to silky smoothness or pan-fried to perfection. Often stuffed with various meat fillings, our vegan take on the classic dish, filled with marinated pak choi and shiitake mushrooms, are just as addictive as their meat counterparts.
If that didn't make you hungry I don't know what will! Start your FeastBox journey today and explore our range of vegan and vegetarian world recipes. From restaurant classics to hidden gems, FeastBox is sure to take you on a culinary adventure. Where will your tastebuds take you this week? https://feastbox.co.uk/pages/weekly-menu