If you're new to recipe boxes and more specifically, new to Feast Box, you might be wondering what you can expect from your first delivery.
We've broken down the process, highlighting exactly what you can look forward to when you order one of our tasty boxes.
1. (First things first) YOU'LL NEED AN APPETITE FOR EXCITING GLOBAL CUISINES
Our team of experts scour the globe, researching and carefully handpicking the most intriguing and authentic meals. Don't get us wrong, we don't neglect the classics - we'd never deny anyone of a tasty tikka masala, but our aim is to spread the word and share our knowledge of the most delicious undiscovered gems from the best international cuisines
2. 12 NEW RECIPES EVERY WEEK
Once we've scrupulously tried and tested our recipes, we'll release 12 dishes on the menu every week. We pride ourselves on having a wide range of recipes, appealing to all food preferences; we'll always offer 4 vegan and vegetarian dishes to choose from, as well as fish and meat options. Watch this space for halal meat coming very soon! ...
As a world food-focused recipe box, part of our mission is to show that veganism isn't a flash-in-the-pan trend, it's an ethos that's been followed in many forms all over the world for centuries.
Our recipes show off the versatility of vegan ingredients like tofu, jackfruit and lentils, which deserve to be enjoyed in their own right, not just as 'meat substitutes' Read our myth busting blog on plant-based eating if you need more convincing...
Whether you're looking for weeknight comfort food, an exciting date night dinner, or a showstopping dish to impress your mates, we cater to all preferences and absolutely never fall short on flavour.
Recipes for 2 and 4 people

4 vegan and vegetarian dishes every week

Choose from simple or more challenging recipes
3. FLEXIBLE SUBSCRIPTION AND PERSONALISED DELIVERY
Most of our customers receive a box every week but sometimes it's nice to look forward to your feast box
bi-monthly, monthly or just your Saturday evening curry night.
You're more than welcome to skip or pause your Feast Box at any time (you will be very welcome back!)
Deliveries arrive every Tuesday-Friday. You'll receive a text from our courier on the morning of the delivery with a one hour time slot.
Don't worry, we know it can be frustrating staying home to receive a delivery. If you aren't home, our couriers will leave your box in a designated safe place (at your own risk) so that it's waiting for you when you return, rather than being returned to the depot and losing its freshness.
Our boxes are insulated with recycled denim material, which keeps perishable items fresh and cold for 48 hours.
Use-by dates will be printed on all our products - if you need a bit of clarity on the meaning of use-by and best-before dates, take a look at this helpful Guardian article.
Skip or pause at any time

Deliveries Tuesday-Friday - you don't have to be home!

Boxes are insulated with recycled denim
4. PERFECTLY PORTIONED RECIPES - HELPING YOU TO REDUCE YOUR FOOD WASTE
All ingredients we send will be in the right quantities. We're sticklers for keeping food waste to a minimum so you'll be using everything you receive for your dishes. Depending on your spice preference, you may choose to hold back on using all the chillies. The only things you need to have are cooking oil and S + P!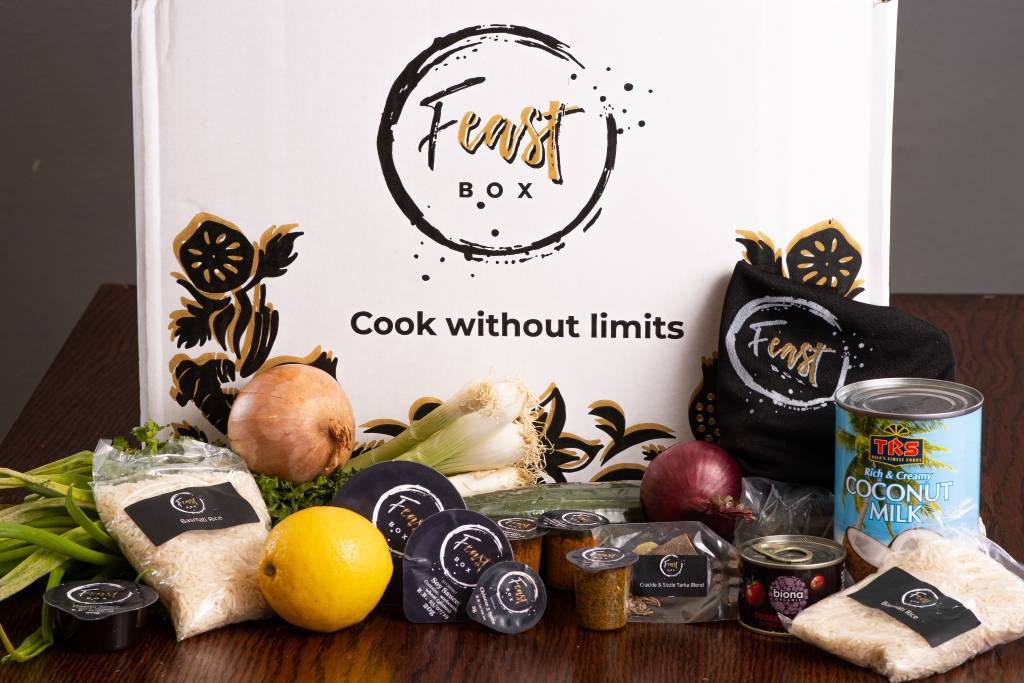 5. ACCESSIBLE FOR ANY KITCHEN
We've made sure to tailor our methods so that they're suitable for the basics of kitchen utensils: knives, graters, peelers, saucepans and frying pans. No blenders necessary

No fancy kitchen untenstils necessary

All you need: knives, a grater, a peeler, saucepans and frying pans

The sharper your knife, the better your chopping!
We have a dedicated commitment to making Feast Box as environmentally as possible. Currently, most of our materials are recyclable or reusable. To name a few, our insulation material is made from recycled denim, our ice packs are reusable and our box & paper bags are recyclable!
We're working on some really exciting changes to become even more environmentally friendly. We're always open to hearing your feedback. If you have any ideas or suggestions to guide us in an even more sustainable direction, we'd love you to get in touch!